How to dress
How to dress for cross-country skiing?
Stay Warm and Comfortable on Your Cross-Country Skiing Adventures: Tips for Choosing the Right Clothing
Recently, many people have decided to give cross-country skiing a chance. However, the problem arises when they underestimate the weather outside or have no experience in cross-country skiing. So in this article, we'll discuss some basic tips and tricks to help you dress properly for cross-country skiing. After all, it would be a shame to expose yourself to damage to your health in the form of a cold at the very beginning.
What exactly should you wear for cross-country skiing?
There are many types of clothing for cross-country skiing that are made of different materials, such as polyester, cotton, sheep's wool and others. Each of these materials has its own advantages and disadvantages, but the most important thing to remember when choosing clothing is to wear something that effectively wicks sweat away from the body.
There are two ways to look at clothing for cross-country skiing – multi-layered by layering multiple pieces of clothing on top of each other, and comprehensive by wearing special multi-layer thermal clothing.
Some experts recommend wearing several layers of clothing on top of each other, starting with a couple of thermal shirts, a thermal sweatshirt and a thermal jacket. The same goes for underwear, namely thermal socks and stretchy pants.
With this type of clothing, it is important that it "breathes", keeps you warm and does not cause excessive sweating.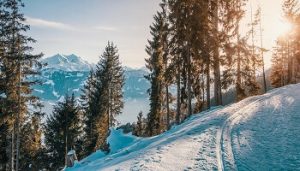 The second view of clothing is exactly the opposite, i.e., fewer layers of clothing, because nowadays there are already clothes that are composed of several layers themselves, so there is no need to add more layers.
What to wear for cross-country skiing?
Thermal underwear should be an essential part of every cross-country skier's clothing. It is often used as the lowest, i.e. the first layer on the body, as it effectively wicks sweat away from the body.
The second layer of cross-country skiing clothing can be a T-shirt, jacket or even a sweatshirt. Its function is both to wick sweat away from the first layer and to protect against cold and weather conditions.
The second layer is often made of fleece. This material is very soft and silky and is an excellent thermal insulator. Another advantage is that it does not retain water.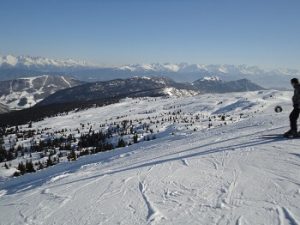 The third layer, in particular, should be impervious to moisture and must be extremely resistant to cold, wind and possible impacts. Therefore, a wind jacket or softshell jacket can be worn as the third layer. It's also good if the third layer can reflect the sun's rays, because this way it won't get too sweaty and dirty in the sun.
For pants, the same principle applies as for the aforementioned layers. The first layer is designed to keep you warm and wick away sweat, while the second layer is designed to protect you from cold, moisture and wind. Pants designed exclusively for cross-country skiing reach up only to the waist.
Gloves and cap
Several rules apply to gloves and hats. First of all, they should have several layers and be highly resistant to cold, wind and moisture.
Some gloves designed exclusively for cross-country skiing have a non-slip material that makes it easier to grip cross-country ski poles.
Make sure the gloves are durable and strong, but at the same time provide a secure feeling, as you will need to hold the poles firmly.
Cross-country skiing shoes
When choosing shoes for cross-country skiing, you should choose good quality and comfortable shoes, since you are likely to wear them all day.
If you are not careful in choosing them, in addition to giving you painful blisters, there is also a risk that you will quickly destroy them and gain practically nothing from the trip. Make sure the shoe holds your foot firmly and reaches above the ankle.
The boots also come with the right socks, which should not be too thick, they need to slide well into the boots, as well as protect against cold and moisture, so it is worth investing in good quality thermal socks.
Read also articles about how to dress:
Some tips on how to dress for cross-country skiing
Always take a few clothes with you as a backup. When you're waiting for the bus or returning from cross-country skiing to your car, you'd better stop for 5 minutes and quickly change your wet cross-country skiing clothes for dry ones. 
This will avoid unwanted colds and keep you warm right away. Waiting in wet clothes can significantly lower your body temperature, which in some cases can be dangerous.
If you're going to do extreme cross-country skiing, also take a small bumbag with you to quickly change out of your clothes somewhere between extreme and slow cross-country skiing.
You will know if you are dressed properly when you leave the house. If you walk out the door and it's still warm, that means you're not dressed properly. It should be a little cooler, because if you go out for cross-country skiing dressed too thickly, the temperature will only rise and you will sweat quickly, which can lead to serious illness. This rule applies to virtually every winter sport, from cross-country skiing to skiing clothes.
Therefore, you should dress so that you are neither too warm nor too cold. In short, it needs to be a little cooler outside.
When you go cross-country skiing, you will be warming up. Cross-country skiing is a great activity for both young people and seniors. Therefore, make sure you are properly prepared for this activity and can do it often without accidents, colds, etc.