How to dress
How to dress for prom?
Stand out in the crowd: fashion tips for prom
The pre-graduation party – the so-called prom will be a great experience for all participants of this important event. Women graduates are already grown women and have a whole life ahead of them, male graduates should already show some signs of maturity and, of course, parents of the graduates want to come to see their children and look dignified and proud together with them. The problem for all these groups, however, is choosing the right clothes. What to wear to the prom? In this article we have prepared some interesting hints and tips to help you successfully deal with this problem.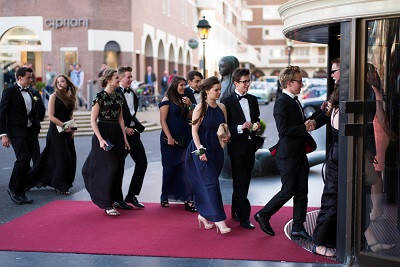 What to wear to the prom
The prom can be a difficult event for both the high school graduates themselves (males and females) and the students' parents, as there are certain rules to follow in each category.
Whether you are mother or father of a high school graduate and you are getting ready for the prom, or you are a high school graduate yourself with no idea what to wear, the following information should help you understand better what to wear to prom (or what you should definitely not wear).
Prom dress for girls
For young high school graduates, prom party can be a bit stressful event: choosing the right shoes, makeup, handbag and especially the dress – all requires attention and thought.
Above all, however, remember that it's your night, it's for you and, above all, you should enjoy it. However, let's take a look at what the options are for prom dresses.
The dress is the backbone of the party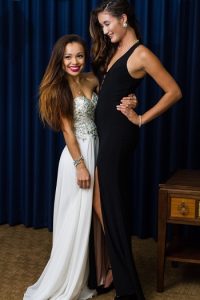 The prom dress is essentially the most important point of the program and one of the most difficult pieces of equipment for prom-goers.
What kind of dress should you choose for a prom? What length should such a dress be? What colors should you choose?
Choosing a dress is extremely complicated for most women attending the prom, but in principle they can stick to a few rules:
First, think carefully about what theme the dress should have. Then you can start to choose the colors of the different parts of the dress.
If you haven't thought yet about what kind of a dress to wear to the prom, this is the best time to start looking through pictures of dresses on Instagram, fashion sites, etc.
In addition, you need to be aware that what you see in the photo may not quite match your imagination, or that the dress you would have chosen based solely on the photos may not fit you. The cut may not fit, or your figure may not match the pattern in which the dress was designed.
Therefore, it is extremely important that you try several options on that you would like to wear to the prom.
Shoes for the prom
Perhaps the only thing as important as the prom dress are the shoes you wear with it.
There are several things to keep in mind when choosing shoes, such as whether the shoes will match the dress, whether the colors will match, how they are decorated, etc. You will get the best combination when you have the dress, and then you can see what shoes will be the best match with it.
.
Another thing to keep in mind is not to wear shoes unnecessarily which have a too high heel, as you will probably walk and dance in them all night.
Small ballerinas or sneakers are already commonly worn at some proms.
Accessories, jewelry and pretties for proms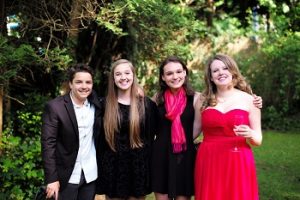 Although it may seem unlikely, jewelry should be the last thing on your mind while preparing for the prom. Of course, a nice pair of earrings and a necklace are highly recommended, but don't overdo it.
It's better if you choose a few specific pieces of jewelry to complement your overall look, rather than the opposite – when you're all festooned with jewelry.
In the case of handbags, it's even more irrelevant than jewelry, since the handbag will spend most of its time at the table on a chair while you dance and enjoy.
Don't unnecessarily choose a purse
that's too big, because you'll just have too much to do with it. Rather, choose something smaller and more practical – a handbag that will stash your essentials and be easy and hassle-free to carry.
Of course, keep in mind that your prom handbag should match the rest of your outfit.
.
Makeup and hairstyles for the prom
Although these two things are not so much related to your choice of clothes, they are key accessories that can make or break your overall look and appearance completely.
Try to choose make-up artists whose work you like best and who have experience in prom preparations. Currently there is a fashion for "make-up no-make-up", in which a woman wears make-up, but at the same time looks like a "natural woman".
As for the hairstyle, the matter is a little more complicated, because it largely depends on the dress and accessories you have chosen. Only then can you consider what hairstyle to choose.
You can put up a loose or pulled-back bun, let your hair down, or, depending on the prom, combine both (you put it up first and then let it down).
Prom outfits for high school graduates
Men graduating from school have a slightly easier choice of a prom outfit than their female counterparts. Men's prom attire should be monochromatic, elegant and plain. Nothing complicated.
When it comes to colors, as a high school graduate, choose darker colors: classic black or dark blue. Also, don't forget a white shirt and tie (or a bow tie).
Men's shoes for the prom
For this item, let's get a few things straight: shoes are supposed to look elegant, complement the whole outfit, and at the same time they must be very comfortable, since you will be at the ball for several hours.
According to these criteria, you can forget about sneakers, zippered shoes, shoes without binding, moccasins and the like.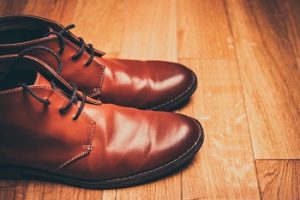 Also, forget about borrowing shoes from friends, family, dad or brother, because if they don't fit well, you might go crazy in them for the rest of the evening.
Choose rather shoes that have patent leather – so called patent shoes. Shoes should be (as before) black in color. It is best to wear long black socks with them (no colorful, short or otherwise provocative ones).
Shirt for the prom
When it comes to prom shirts, the rules of etiquette are quite clear: white with long sleeves. Nothing more, nothing less.
Don't wear colorful shirts, nothing bold, no provocative colors, no printed shirts or anything like that. They don't fit and are a bit inelegant. Also, forget about wearing a short-sleeved shirt to the prom.
Undershirts or similar underwear are also associated with the shirt (this applies to both sexes). Under no circumstances should you wear anything like this, as it may be visible under the shirt and you may look silly. The same goes for women – don't wear see-through/invisible underwear.
Tie for the prom
The tie should be only one color and have a very simple pattern. If you are just starting to wear a tie and have no idea how to tie it, ask a family member or a close friend for help.
With ties, there is also a rule that the narrower the suit, the narrower the tie should be as well. A bow tie goes better with a tuxedo than with a classic prom suit.
Men's suit for the prom
The prom outfit is probably the hardest nut to crack for high school graduates.
Under no circumstances should you borrow a suit from your older brother, uncle, father, grandfather, that is, from anyone. First of all, it will 100% not fit you as well as it should, and secondly, this is an event where you should already have at least one normal (and most importantly, your own) men's suit at your disposal.
So if you are determined to choose it yourself, you should pay attention to: shoulders (they should fit nicely), chest, sleeves – they should be about 1 cm above the shirt sleeve, pants should be the right length (or should not reach the ground and should not fall at all).
As for the color scheme, the matter is a little simpler – black or navy blue (gray is also acceptable), without patterns or prints.
A little tip at the end: don't put anything in your pants pocket and don't button the bottom button of your suit.
Some advice for parents how to dress for the prom
Try to make the colors of the different parts of your closet match (i.e. don't combine too many colors, try to keep it simple).
Also, forget about backpacks, bags and similar nonsense. Leave them in the car, in the closet or at home. The only thing you will take with you will be a winter coat.
Prom outfit for parents
Outfits for parents should stick to one simple rule – don't overshadow the kids with your outfit, as this is an important event for them (but also for you, of course).
The goal of prom attire for parents is to make you look great while not standing out too much. This applies to both mothers of the graduates and fathers.
Mothers' outfit for the prom
For mothers, it is important to realize before the prom celebration that this is an event that is all about their child, be it a son or daughter.
Of course, it is important to dress appropriately and choose an outfit that is not too simple and ordinary, because you want to show yourself as a mother and a woman, but at the same time you can not dwarf your child.
With this in mind, you can read some tips according to which you should dress for the graduation ceremony:
What's appropriate for moms to attend the pre-graduation ball:
Clothes should be rather simple, with a subtle hint of grace and elegance.
As for the hairstyle, it is convenient to have hair loose.
The dress should be midi length
Try not to use dresses that stand out too much (e.g., shiny or otherwise "eye-catching")
Contrasting accessories (e.g. handbags and shoes in gold or silver) go well with dark dresses
Don't forget to wear proper and appropriate makeup and to varnish your nails.
For dresses with narrow straps, it is a good idea to wear a shawl or bolero.
What is inappropriate for moms on prom night:
Definitely do not wear a low-cut dress
Do not expose too many parts of your body (such as cleavage or most of the legs)
Don't overdo it with jewelry and gold accessories
Hairstyle should not be too complicated
Leave boots or other leather footwear at home for another occasion
Don't take an oversized, impractical handbag with you
Under no circumstances wear black stockings, you are not going to a funeral
Dresses, suits and designs for prom
Since you should stick to the rule that you don't want to draw unnecessary attention to yourself from other people in your graduating class, you should aim for your outfit to be something between festive and simple.
This means no extreme necklines, large or conversely too-short skirts, etc. A cocktail dress should meet all the requirements of a prom, as you can look great in it, while keeping your outfit correct.
If you are a fan of suits, you will certainly not make a gaffe by choosing the right suit.
Dress or pants?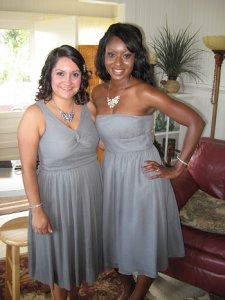 When choosing pants or dresses for the prom, the choice is practically up to you. It depends on your point of view.
On the one hand, the sense of comfort and practicality of pants is invaluable, because nice pants can look very elegant in the right combination with other clothes, and at the same time you don't have to pay so much attention to them and constantly worry about how you look.
On the other hand, dresses as such are a symbol of femininity and will add the right expression to your personality.
As you can see, in this case it's up to you to decide what direction your prom outfit will take.
Prom colors
Choosing the right colors for graduation is a bit tricky, as there is no set rule as to which colors to choose and which to avoid.
If you don't want to spoil anything, choose an outfit in the standard black color, because black can be worn practically anytime and anywhere, and with the right cut you will look elegant in it.
If you think you'll look a bit dull in a black outfit – add gold or silver here and there, or combine it with neutral colors such as gray, light blue, burgundy, etc.
However, in addition to black, you can also try royal blue or green, which can have both light and dark shades.
Material of the prom dress
Although the material is not that important (of course, no one will judge you for what you use, as long as you look good and appropriate in it), we have some tips for you to try.
Brocade as a material is still used in society because it has a long history in which it has proven time and again to be a reliable material for various events.
If you want to try out brocade dresses, choose one that accentuates your feminine curves nicely.
Although it may surprise you, lace material is not yet a forgotten history. To this day, it is still practically used at various events because it looks nice, simple, decent and adds femininity. Lace material for the prom, goes well with such colors as classic gray, purple or dark burgundy.
Fathers' clothes for the prom
While we don't want to neglect fathers who have the privilege of going to their child's prom, from a practical standpoint there aren't that many strict rules for fathers to follow, however it does not make it easier for them to decide what to wear to the prom.
The basic rule (not unexpectedly) is that they should wear a formal suit. Don't forget appropriate patent shoes and a formal shirt.
Perhaps a good piece of advice for fathers is to stick to a pattern that their son may have, because that way they will fit in perfectly.