How to dress
What to wear on a plane?
Flying in style: choosing the right outfit for your trip
Let's face it, no one wants to wear their best clothes on a stuffy and crowded airplane. In short, most people want to wear on the plane something that is comfortable, practical and that looks relatively good. That's why it's important to think pragmatically about air travel. In the end it's not a walk in the park. That's why we've put together some interesting tips and tricks to help you dress appropriately for the plane. What to wear on a plane?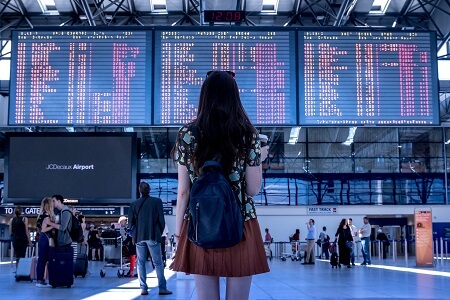 What did people wear on a plane in the past?
In the past, air travel was something extravagant, unusual. Women dressed in dresses and wore hats, and men boarded planes in tailcoats, suits and ties. These days, however, air travel has become a routine affair that is more about getting from point A to point B, surviving on the plane unscathed and in comfort, and somehow getting a good nap.
The right choice of clothing is especially useful for international flights, where you need to focus on how to make yourself comfortable during the flight, as you will be sitting in a seat with many other passengers for many hours.
It's only at the end of the flight that you realize that dressing up for the sake of looking better wasn't the best idea, because after you leave the plane you'll look exhausted and haggard anyway. Therefore, there is nothing wrong with wearing something loose, simple, comfortable and practical on the plane.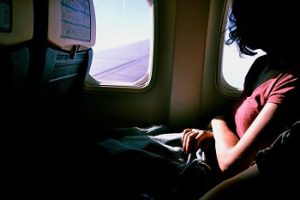 Airports and airplanes are full of tired passengers who don't have the desire or energy to look sensational anyway, let alone look around at what others are wearing.
Moreover, with the right choice of clothes for an airplane, you can look great and clean even without putting on your best outfit. It just depends on your imagination and practical thinking.
The following points can show you the golden mean of how to dress for an airplane.
What to wear on the plane:
First of all, of course, wear something comfortable and practical.
Try to imagine a realistic sequence of events that will take place at the airport and on the plane. Such as the security check. If you can't avoid it, don't unnecessarily wear a belt that you will have to take off anyway. Wear shoes that are easy and quick to remove (not ones that will take you an eternity to remove and lace up).
Do not wear any extravagant footwear, such as high-heeled shoes, as getting on and off the plane can be a bit tricky (not to mention how to get off the plane in an emergency).
Don't even think about wearing shirts or other items of clothing with offensive slogans or images. In the eyes of other passengers, you would not get away with wearing, for example, a T-shirt with a racist joke or a picture of a protruding middle finger, etc. There are many people with different views, beliefs and religions at the airport and on the plane, so you should try to show respect to those around you.
Outrightly do not wear jewelry, as it will only make your life more complicated on the plane (and during security checks at the airport). Limit yourself to earrings, and tuck all other items in your luggage (including necklaces, bracelets, rings, etc.). Put them back on as soon as you land. Not only will it be easier for you to move from the airport to the plane without them, but you will also be more comfortable to travel (and especially to sleep).
As for the type of clothing, no one will judge you because of what you're wearing (nor does anyone care, and even if they do, people who judge others by their appearance are certainly not worthy of attention). If you don't know what to wear anymore, you can wear sweatpants and sneakers.
What exactly you should wear on an airplane?
In this chapter, we will discuss basic clothing tips that you can use on an airplane without bothering yourself with this unnecessarily. From pants through dresses to underwear.
You'll be surprised how many things you need to consider when traveling by plane.
Underwear
First of all, wear comfortable and supportive underwear.
Choose rather a simple underwear, without any cutouts, patterns or uncomfortable seams (if you have the option – and it would be really necessary), consider packing an extra unit of underwear – but this only applies if you would have the opportunity to change quickly (which very often, and on most flights, is not the case).
For women, it is definitely not advisable to wear a thong or strapless bra, as there is no way to adjust this type of clothing during the flight if it would start irritating you.
When it comes to bras, you should also consider whether to wear a bra with or without underwire. Perhaps it would be best to wear something very light and comfortable.
Trousers
As for pants, choose rather looser ones. Choose pants in black or any other darker color, as creases, wrinkles, etc., are not as visible on darker shades.
Try to choose pants for the airplane that do not require a belt, as it may start to pinch you during a long flight.
At the same time, do not choose pants that literally cut into your body. Pants with laces would be ideal, as they won't squeeze you and you can adjust them relatively quickly during the flight. Many different types of pants can be used on the plane, such as:
Leggins

Long and dark leggings will allow you to hide your curves and perfectly wrap your legs even during a long seated flight. Moreover, they will provide warmth on chilly nights on the plane.
For example, you can combine them with a lighter, open sweater (which can be combined with virtually any type of pants).
As footwear, for example, you can wear canvas shoes, which you will appreciate especially when checking in at the airport (you can simply put them on and take them off quickly).
Furthermore, they are great for warmer weather. Just give yourself a few days before air travel to stretch them out and fit your foot well.
Jeans
Once you're thinking about what pants to wear on a plane, always avoid pieces of clothing that are too tight or constricting (surely you wouldn't be crazy enough to bring and wear a corset on a plane, for example, would you?)
Therefore, wearing jeans that are too tight or slinky is not the best idea, especially during longer flights. The material of the jeans does not breathe very well and can make the jeans uncomfortable for the wearer.
However, if you want to wear them at all costs, choose jeans that are a bit looser (or just "sneak" them from your boyfriend's closet).
Dress
If you're not fond of loose pants and t-shirts, you can use a long (but comfortable) dress as an alternative.
Instead, choose a looser summer outfit that covers you from the ankles up, and cover the top with a lighter sweater. If it gets too warm on the plane, you can remove the sweater and roll up the skirt a little higher.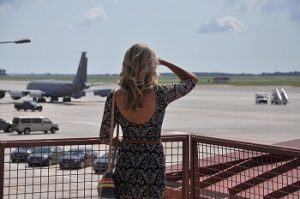 Long dresses are very useful on long flights. Their non-constricting shape and soft fabric provide excellent coverage and a feeling of freshness throughout the flight.
If it gets cold during the flight, you can wear a sleeveless T-shirt or a blouse over it or just a coat (you should have a coat with you on almost every flight, as it can also serve as a kind of blanket during "short" naps).
Footwear for the duration of an airplane flight
W każdym razie nigdy nie zapominaj o noszeniu przylegających skarpet, które nie będą się zapadać przy zdejmowaniu.
Airplane footwear is quite a complicated and relative issue. It depends on whether you just want to be comfortable in your shoes, or whether you want to look good on the plane somehow.
Otherwise, keep in mind that you won't be wearing them for the entire flight anyway, eventually you're going to take them off (after all, it would be weird to endure 20 hours of suffering on a plane in shoes).
Sometimes, as mentioned above, it's best to wear regular canvas shoes, some other time it's best to use the biggest shoes you have (considering how quickly you can get out of them at the checkpoint).
Afterall, never forget to wear clinging socks that won't fall when you take them off.
Headwear on board a plane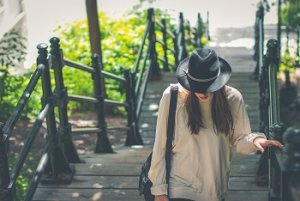 Women should always take a hat or cap with them.
A hat serves three purposes: you can wear it when you don't have any hairstyle on the top of your head (a fedora or hat is suitable for this purpose), a hat should keep you warm when it's cold on an airplane or when you travel to a place where it's cold.
Third, a hat can make a big difference in your overall appearance. For example, a straw hat goes well with a white t-shirt and jeans.
If you want to look a little sportier, wear a cap or baseball cap.
Scarf on the plane
If you plan to wear a scarf on the plane, you have to keep in mind that it can affect your overall appearance just as much as a straw hat, for example.
A T-shirt and jeans should coordinate well with a scarf. Use a cotton or silk scarf on hot days.
Just make sure the scarf is relatively long and can be layered and combined with other pieces of clothing.
Compression socks
Socks are probably the last thing you think about when packing. People usually use classic long socks that fit over sneakers.
However, when traveling by airplane, compression socks are simply essential. It is necessary so that your feet do not get inflamed during a long flight and blood circulates well in them. Compression socks solve both problems at the same time and avoid blood vessel thrombosis, for example. Never ever forget to wear compression socks on a plane.
Other types of clothing that can be worn on an airplane
Wear more than one layer of clothing. Wear a couple of tank tops or short-sleeved shirts to start, and put a long-sleeved shirt on top.
If it gets too cold, have a sweater or sweatshirt with you. This way you will be prepared for all kinds of conditions. Try to wear clothes that are made of natural fibers such as cotton.
Wear socks that "breathe". It is best to combine them with shoes that can be discreetly slipped on and off on the plane (such as suede shoes).
Also take a large, soft scarf with you in case you need to stay warm on the plane or at your destination.
Furthermore, a satin eye mask will definitely come in handy for a better beauty sleep – just have it in your bag on the plane along with a large pair of sunglasses to keep you comfortable as soon as you step off the plane.
What should not be worn on an airplane?
We've covered some basic tips and advices on how you should think about the clothes you want to wear before a flight. Now we're going to look at some things you should definitely not do or wear on a plane.
Do not wear bright-colored clothing
Do not wear clothes with bold patterns or strong colors. Remember that darker colors combine better with any type of clothing, whether black, gray or navy blue.
You can't make the mistake of wearing a black t-shirt and your favorite leggings (or jeans).
In addition, it should be noted that with darker colors a person looks more organized and inconspicuous, which makes it easier to blend in with the crowd and avoid unwanted attention (for example of thieves).
Don't take more than one pair of jeans on the plane
Although we have already mentioned that jeans are not the best choice, they do have an advantage – you can practically combine them with everything and still look good. Moreover, they are suitable for any weather.
While the rest of the passengers will look like tourists, you will look quite stylish (providing you choose a more comfortable type of jeans, otherwise the flight may be uncomfortable for you). However, there is no reason to take more than one pair with you.
By doing this, it would unnecessarily take up space in your luggage by taking them. Speaking of jeans, let's move on to the next point, where you'll learn what you definitely shouldn't do…
Under no circumstances should you wear skinny jeans on a plane!
You may have already known this, but it bears repeating: don't wear skinny jeans on a plane. Otherwise, the whole flight will be one big agony, and you'll be praying that the plane makes an emergency landing, or that you get run over by madmen with machine guns, or that you crash into the nearest skyscraper. It only takes a few hours on an airplane to instantly feel uncomfortable.
Also, keep in mind that tight jeans pose a risk of thrombosis or a blood clot. Always choose more comfortable, looser and wider jeans for the plane.
Don't bring regular bags onto the plane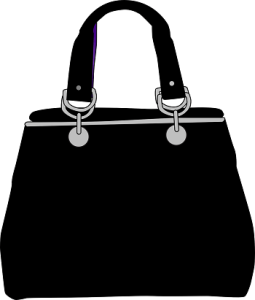 Many women traveling by air often take along small hand or shoulder bags that have no zipper or closure, or simply remain open at all times.
They certainly have their advantages (e.g., you don't have to open anything and you can keep your glasses or cell phone handy, for example), but statistics say that such ordinary bags are basically an invitation to pickpockets.
For small items, it is better to carry a small purse with a zipper or buttons. Remember that a zippered bag poses a greater challenge to a thief than an open bag.
Don't take thick hooded jackets onto a plane
Never travel by air in an oversized winter jacket/coat. We're talking about thick jackets with fake fur on the hood and down jackets and coats.
If you justify such clothing by claiming that you need it because you are going somewhere colder, look in the mirror and see if you look like you are going to Antarctica. If you look like that, YOU HAVE THE WRONG CLOTHING ON YOU, IF YOU ARE NOT TRAVELING TO ANTARCTICA!
Besides, it will be difficult for you to dress comfortably in this jacket, let alone to take it off.
It is best to wear an all-weather jacket that is suitable for both winter and less cold days.
Don't bring expensive jewelry with you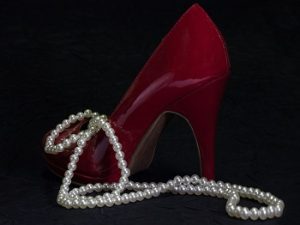 Never, but never, take jewelry with you when traveling.
If you take it and have it on you, you could become a victim of theft (or even robbery). However, theft is not the only problem.
It is common for a piece of jewelry to fall out or fall off while traveling, and if you have jewelry packed in your travel bag, it can get caught in it.
Under no circumstances should strong perfumes be used
Of course, many women use perfumes and fragrances (or almost all of them). However, when traveling by air, where everyone shares the same space – and therefore air – you should keep perfumes to a minimum.
At best (especially if you use harsh perfumes) you shouldn't use them at all. This also applies to in-flight fragrances – it's just better not to use them.
Try to respect the passengers around you. People with allergies or asthma, as well as anyone suffering from headaches, can have a very uncomfortable flight because of this, not to mention possible health problems.
Do not wear shorts or short pants on the plane
You should never wear shorts on an airplane, even if you are traveling to a warm place. Women can wear lightweight beachwear so they won't be too hot and that is easy to pack and wear.
In addition, in some countries, shorts can be a sign of disrespect because they expose too much flesh.
For example, in Indonesia or Vietnam, one never wears shorts, short pants etc. regardless of the temperature. Rather, wear lightweight pants or jeans.
Do not wear pajamas during the flight
If you're a frequent traveler, you may have noticed that many people at the airport, or even during a flight, are dressed somewhat inappropriately.
Pajamas may be one item of clothing that is not suitable for wearing on an airplane (although they can be quite comfortable, it's true). Pajamas should lie in bed and not be worn during air travel.
This point depends on what group of people you fall into (pajama wearers or non-pajama wearers), but it should be noted that airplane attendants look at people who are wearing appropriate attire differently than those who look scruffy and think the plane is their home.
Some tips on how to dress for an airplane
Always consider what country you are traveling to. In addition to the fact that you should be comfortable on the plane, once you land, you should wear clothing that is appropriate for the country's conditions. This means that if you're traveling from a colder country to a place where it's very hot, you definitely won't wear a winter coat and thick socks on the plane.
Of course, if you have the opportunity to change your outfit on the plane or before departure, that's different, but you don't always have that option. So think beforehand about what purposes your clothes will be used for after landing.
When dressing for an airplane, the place you are flying to is also important.
In addition to the practical purpose of the clothing itself, you should also consider the social and cultural environment you will be in (or the plane you will be on) when you land.
If you're going to a big city, your style should match its surroundings; if you plan to visit a different culture with a different religion, you should avoid provocative styling and try to fit in with your surroundings.
This also applies to the color of your clothes (always use dark shades rather than light ones – the reasons we mentioned above).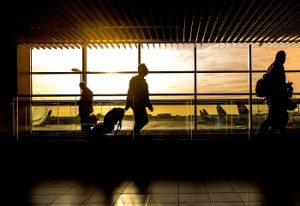 For the plane, try to dress in clothes that can be layered. The idea is to have a set of clothes that can be easily taken off and put on depending on the conditions on the plane.
This can include T-shirts, sweaters, leggings, waterproof jackets, etc., in short, anything that can be easily and comfortably taken off when it gets warm, or quickly put on when it suddenly gets cold.