Size charts for adults and shoes for children. European, English, American and mm numbering. To determine the good size of shoes and footwear in most of the EU countries is used the European shoe numbering. If you need to know the relationship of European numbering to the longest foot size – mondo point, or to the English and American numbering, use the following shoe size charts.
First measure the length of your foot according to the instructions below, and then assign the measured value to the given size according to the shoe size chart. A potentially possible and frequently used method of finding the right shoe size is to trace the foot on the paper, measure its length in millimeters, and then find the appropriate shoe size in the shoe size table. However, such measurement is not very accurate.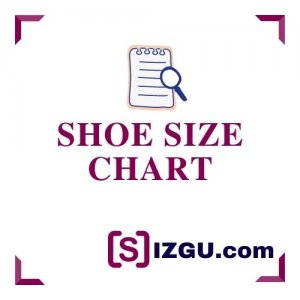 How to measure foot size?
Forget the inaccurate placement of the subway to your foot or imprecise the circumference of the foot on the paper and the subsequent measurement. All of these methods are very inaccurate and can actually change your actual size by 2 sizes up or down.
For correct measurement you will need a wall or stairs, paper, stationery and a ruler or meter. A substitute option, if you do not have a stationery at hand, can also be chalk and you do not need paper.
How to find out the shoe size:
Find a suitable stairs or wall (recommended for comfort – stairs).
Place the paper on the floor so that it is pressed directly against the step (wall).
Stand on the paper by placing the heel directly against the step (wall).
At the furthest point from the heel of your foot (thumb or forefinger), make a straight line in front of your finger with a pen / pencil / chalk.
Remove the paper from under your feet.
Measure the distance from the edge of the paper (which was at the wall / step) to the painted line with a ruler or meter.
Add 5 mm (0.5 cm) to the measured distance.
Compare the result in the shoe size chart to get information about your correct shoe size.
Women's shoe sizes chart

| | | | | | | | | | | | | | | | | | |
| --- | --- | --- | --- | --- | --- | --- | --- | --- | --- | --- | --- | --- | --- | --- | --- | --- | --- |
| EUR | 35 | 36 | 36,5 | 37 | 37,5 | 38 | 38,5 | 39 | 40 | 41 | 41,5 | 42 | 42,5 | 43 | 44 | 44,5 | 45 |
| UK | 3 | 3,5 | 4 | 4,5 | 4,5 | 5 | 5,5 | 6 | 6,5 | 7 | 7,5 | 8 | 8,5 | 9 | 9,5 | 10 | 10,5 |
| US | 5 | 5,5 | 6 | 6,5 | 6,5 | 7 | 7,5 | 8 | 8,5 | 9 | 9,5 | 10 | 10,5 | 11 | 11,5 | 12 | 12,5 |
| mm | 220 | 225 | 230 | 235 | 237 | 240 | 245 | 250 | 255 | 260 | 265 | 270 | 275 | 280 | 285 | 290 | 295 |
Men's shoe sizes chart

| | | | | | | | | | | | | | | | | | |
| --- | --- | --- | --- | --- | --- | --- | --- | --- | --- | --- | --- | --- | --- | --- | --- | --- | --- |
| EUR | 40 | 41 | 41,5 | 42 | 42,5 | 43 | 44 | 44,5 | 45 | 46 | 46,5 | 47 | 47,5 | 48 | 48,5 | 49 | 50 |
| UK | 6,5 | 7 | 7,5 | 8 | 8,5 | 9 | 9,5 | 10 | 10,5 | 11 | 11,5 | 12 | 12,5 | 13 | 13,5 | 14 | 14,5 |
| US | 7,5 | 8 | 8,5 | 9 | 9,5 | 10 | 10,5 | 11 | 11,5 | 12 | 12,5 | 13 | 13,5 | 14 | 14,5 | 15 | 15,5 |
| mm | 255 | 260 | 265 | 270 | 275 | 280 | 285 | 290 | 295 | 300 | 305 | 310 | 315 | 320 | 325 | 330 | 335 |
Kids' shoe size chart
| | | | | | | | | | | | | | |
| --- | --- | --- | --- | --- | --- | --- | --- | --- | --- | --- | --- | --- | --- |
| EU sizes | 18 | 19 | 20 | 21 | 22 | 23 | 24 | 25 | 26,5 | 27 | 28 | 29 | 30,5 |
| mm (mondo point) | | | | | | | | 155 | 165 | 170 | 175 | 185 | 195 |
| UK sizes | 2 | 3 | 4 | 4,5 | 5 | 6 | 7 | 7,5 | 8,5 | 9 | 10 | 11 | 12 |
| US sizes | 3 | 4 | 5 | 5,5 | 6 | 7 | 8 | 8,5 | 9,5 | 10 | 11 | 12 | 13 |
Shoe size chart for older children
| | | | | | | | | | | |
| --- | --- | --- | --- | --- | --- | --- | --- | --- | --- | --- |
| EUR sizes | 31 | 32 | 33 | 34 | 35 | 36 | 37 | 38 | 39 | 40 |
| mm (mondo point) | 200 | 205 | 210 | 220 | 225 | 230 | 240 | 245 | 250 | 255 |
| UK sizes | 12,5 | 0,5 | 1 | 2 | 2,5 | 3,5 | 4,5 | 5 | 6 | 6,5 |
Check also size charts of: