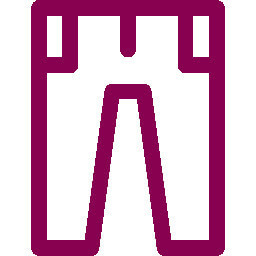 On this page you will find size charts of pants. Individual Pants sizes may vary slightly from manufacturer to manufacturer. Choosing the right size is not as easy as it may seem. The market offers many different variants of types and cuts (slim, skinny, straight, …). However, it is important to keep in mind that not for everyone – everything fits perfectly, and we should be choosing properly when we are choosing pants. The length of the trousers in the size chart is measured from strip to floor.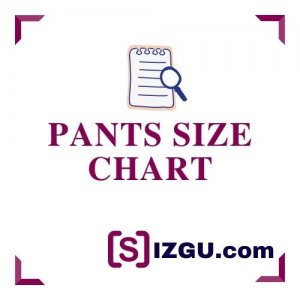 Pants numbering and sizes
You may wonder why your pants are just 36 or 28. The reason is simple. The number indicates the perimeter of the waistband. In some pants we see two numbers (W and L). The first number indicates the waist circumference (in inches), the second number indicates the leg length (in inches).
Conversion of inch sizes to cm
Example:
waist circumference: 36 * 2.54 = 91 cm
leg length (measured from crotch to floor) 28 * 2.54 = 71 cm
Size chart of men's pants sizes
| Size | Size | Body height (in cm) | Waist circumference (in cm) | Hips circumference (in cm) | Pants length (in cm) |
| --- | --- | --- | --- | --- | --- |
| 30 | S | 158-164 | 74-78 | 90-95 | 106 |
| 32 | M | 165-174 | 78-82 | 95-100 | 108 |
| 34 | L | 175-184 | 82-86 | 100-105 | 114 |
| 36 | XL | 185-194 | 86-90 | 105-110 | 120 |
| 38 | XXL | 195-200 | 90-102 | 110-115 | 122 |
| 40 | 3XL | 201 - | 102 - | 115 - | 122 - |
Women's pants size chart
| Size | Size | Body height (in cm) | Waist circumference (in cm) | Hips circumference (in cm) | Pants length (in cm) |
| --- | --- | --- | --- | --- | --- |
| 26 | XS | 153-157 | 66 | 88-92 | 101 |
| 27/28 | S | 158-164 | 70 | 93-96 | 104 |
| 29 | M | 165-174 | 74 | 97-101 | 107 |
| 30 | L | 175-184 | 78 | 102-106 | 110 |
Check also size charts of:
Conversion chart
| | | | | | | | | |
| --- | --- | --- | --- | --- | --- | --- | --- | --- |
| USA (US) | 28 | 30 | 31 | 33 | 34 | 36 | 38 | 39 |
| United Kingdom (UK) | 26 | 28 | 30 | 32 | 34 | 36 | 38 | 40 |
| France, Italy | 36 | 37 | 38 | 39 | 40 | 41 | 42 | 45 |
| DE, PL, SK, | 42 | 44 | 46 | 48 | 50 | 52 | 54 | 56 |