How to dress
How to dress for a wedding as a guest?
How to choose the perfect outfit for a wedding as a guest
As such, a wedding is one of the happiest events in a person's life. After all, it is the union of two people in love who have decided to put the seal on their love with a ceremony. But what if you are not the one who is going to get married, but you are going to go to the wedding as a guest who has been invited to it? What should be even worn to a wedding? As such, a wedding is more or less a social event that, depending on the type and circumstances, requires a certain style of dress. Therefore, in the following lines we have prepared for you some tips on how to dress for a wedding as a guest.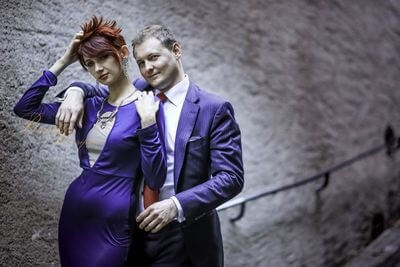 Basic tips on how and what to wear to a wedding as a guest
So how does it work with wedding attire? Is it necessary to wear a dress/suit, skirt or pants, corset or shirt?
The bride and groom are the most important people at the wedding, as it is their day and their event. Usually men, as guests, don't have particular opportunities to mess something up with their suits at the wedding (unless you look identical to the groom), but women should be careful not to stand out from the crowd and not to look too provocatively nor wear too provocative clothes. All attention should be focused on the couple in love.
White is simply forbidden for guests. This color should belong only to the bride and no one else. This is one of the most basic rules you should follow. Alternatively, if you had nothing to wear to the wedding, choose other colors, any other colors, but not pure white (of course, you can choose smaller pieces of white with colorful patterns, etc.).
At modern weddings, it's common for the couple to know in the invitation what style and theme the wedding will be organised in. Maybe it will be a pure traditional classic, or maybe it will be something modern. In any case, pay attention to the event as such, possibly what the theme of the wedding attire will be.
Some rules on how to dress for a wedding as a guest:
Do not wear clothes in red, white, flesh-colored, etc.
Be careful not to overdo it with black, you are not going to a funeral

,

just a wedding
If the happy couple has given specific guidelines for attire, follow them
In church, avoid clothing that reveals too much
If you want to choose pants instead of a dress: try women's suits or a combination of pants and an elegant top
Don't wear clothes that are too tight or too short
Don't have a very provocative and deep neckline
Try to wear clothes that are rather comfortable
Don't wear too much jewelry
Mini skirts and exposed shoulders do not come under a ceremony
What women should wear to a wedding
It all depends on where the wedding will take place. If the wedding is held traditionally in a church, it would be a good idea to cover your shoulders with a sweater or other long-sleeved clothing. If the wedding takes place somewhere in nature, don't wear shoes with heels. Choose steadier footwear.
When it comes to color choices, lavender, green, pale pink or pale blue clothes are more suitable for summer or spring weddings.
Of course, not every woman is a fan of these colors, so depending on your taste and imagination, you can wear a navy blue dress or a dress in beige shades.
However, if your wedding is in autumn or winter, try to combine colors such as black or navy blue. In addition, do not forget about the type of clothing itself – after all, it will be cold.
When choosing a dress with a pattern, make sure that it looks both elegant and not too distinctive. You still want to look great, but you also don't want to distract others' attention from the bride.
Don't overdo it unnecessarily with lace clothing, just choose a few pieces of the closet.
Women's wedding accessories
No one can imagine a woman without accessories. However, among the first accessories you should definitely think about is something else – a handbag. When it comes to your handbag, follow the motto "small and practical", don't take a big purse with you.
On the one hand you won't have anywhere to put it, on the other hand it will only get in your way, and in the end you won't use it much anyway. Try to get one in which you can stash all the essentials, from handkerchiefs to perfume.
Take care to match your handbag to your dress, but if you can't manage that, a handbag in neutral colors will do.
Shoes as such should serve the purpose for which you are coming to the wedding. On the one hand, they should not squeeze you during the endless minutes of the ceremony, and at the same time they should look elegant. You should also be aware that if you decide to dance at the wedding, you will definitely not want to wear shoes with narrow high heels, the so-called "stilettos."
If so, you'd better take two kinds of shoes with you – one pair for the ceremony and the other for dancing. Needless to say, they should be in perfect condition and match your outfit.
As for jewelry, for women there are no restrictions. You can take jewelry according to your taste. The only condition is that it should suit you and not be too extravagant. You can safely take larger earrings or a necklace for the occasion.
The last items of clothing are or can be: a belt, tights (preferably with a pattern) and a hat (only if necessary).
What to wear to a wedding – men
While it may seem simple, men also need to think a bit about how to dress for a wedding.
First and foremost, men should follow a few basic rules of wedding etiquette, such as colors (no white suits or overly bright clothes) and matching their partner (it would be appropriate for the colors of both to match or complement each other). After all, you want to look like a couple, not like two strangers.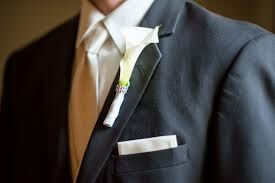 The etiquette also says that men should wear a vest under their blazers, and if the groom is going to wear a tuxedo to the wedding and you are his relative, you should also wear one. Fortunately, such strict rules are not required nowadays, so you can safely forget about them (unless your family, fiancées or family tradition requires it).
Today's modern weddings are a little less formal and more laid-back. This is also being reflected in the style of men's wedding attire. Wearing a suit or tuxedo to a wedding is no longer a prerequisite, you can safely wear tasteful and elegant pants, a vest or sweater, and some nice formal shoes in the summer.
If you want to wear a wedding suit, choose clothes in darker colors from blue to gray, you can also use a suit with patterns.
Wedding accessories for men
You can choose a bow tie or tie as an accessory. As for colors, you can also take something in bolder colors (this includes buttons or even belts), and you don't have to wear only black.
Finally, do not forget about the pocket square. As such, the pocket square can be any color, it just depends on your preference.
However, if you must follow the etiquette – the pocket square should match your tie or bow tie. If you're a fan of traditional fashion, don't forget a classic retro watch!
Ultimately, the outfit and accessories depend on where the wedding will take place, when it will take place (weather), what spirit it will be held in, and finally whether a specific dresscode is required.
Also, don't forget that you want to enjoy the wedding and not to feel uncomfortable in your clothes.
Now let's take a closer look at some outfits, possibly styles of clothing for a wedding when you are a guest, as well as some specific items of clothing that are suitable for a wedding.
What specific clothes can you wear to a wedding?
If you're still not sure what to wear to a wedding, here we give you some tips you can consider or try for both genders – men and women.
However, by default, follow the tips above, as well as the etiquette that is required at a wedding.
Also consider your personal preferences, not everyone is a fan of traditional outfits, or conversely, you don't have to be a fan of overly bold clothing. In any case, it's up to you what you end up wearing to the wedding as a guest.
Wedding clothing – men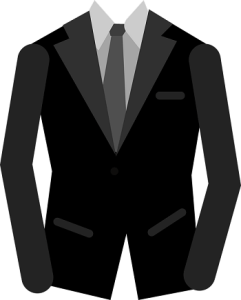 By far the first option is to list the good old classics, i.e.: shirts, black pants, jacket, tie/bow tie. You should wear a white shirt (short and long sleeves are acceptable).
As such, the suit can be in different colors, but not too colorful or too bright, i.e. gray, black is acceptable. Try not to overdo it with patterns.
If you want to experiment a little, you can wear a jacket in blue with patterns, among other things. For shoes, choose shoes in black or brown.
You don't have to wear such a formal suit at a wedding in summer, and you can also choose a slightly lighter color. Try to choose clothes made of lighter materials, such as linen or cotton.
"Black Tie" style at a wedding
This style is one of the most formal types. The idea is that you must wear a tuxedo, that is: tuxedo jacket (black), vest, tuxedo pants (also black), cuffs, white shirt (with reinforced collar), shoes (leather and black) / shoes, bow tie (black, made of materials such as velvet, satin or silk), pocket square in the jacket (decorative).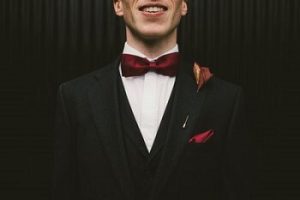 Of course, variations of this style may vary slightly depending on your preferences, requirements for the event and so on. Some things you can swap or combine with other parts of your closet.
Less formal men's wedding attire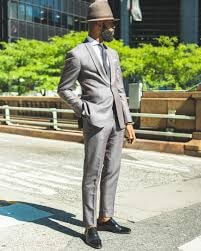 This is a more informal variety of wedding attire. In this case, you can choose colors other than black, such as blue or gray. In addition, it is not a prerequisite to wear a wedding vest.
In the case of a shirt, you can choose one with subtle patterns and in colors such as white, black, gray or blue. Instead of classic formal or patent shoes, you can use your black or brown half shoes.
The advantage of semi-formal clothing is that you can be a little more creative with it, which means that you can wear virtually any socks, tie and pocket square with your jacket.
Wedding attire – women
One of the first options you can try as a woman is an "A" shaped dress around the neck. Such clothes will both make you feel comfortable and hide the more problematic parts of your body.
In addition, if you choose it in the right color, you can highlight your skin. For this type of pleated dresses choose rather some more open shoes such as sandals. It should be noted that this type of dress is more suitable for summer weddings than for winter weddings.
Longer dress – a gown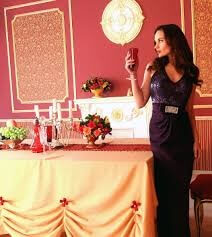 The main advantage of this outfit is that it will perfectly cover you along with your curves from head to toe, making you feel confident and comfortable.
You don't need much jewelry for dresses that have a robe cut, but rather care about choosing the right kind of shoes to go with it.
On the other hand, this type of wedding attire is more suitable for colder days.
Wedding dresses
If you don't want a complete dress, you can try an A-line skirt to go wild with your other clothes.
First of all, make sure it's a simple skirt and not too provocative.
The skirt is best matched with pumps or sandals (a little tip: forget too slim skirts or mini skirts, although this may not be a requirement for every wedding, these types of skirts are more suitable for club, bar or party clothes but are not commonly worn to weddings).
Midi dress for wedding
If you are lucky enough to be a slim woman, give a midi size dress a chance. This tight dress will perfectly emphasize your curves.
However, you need to take into account the fact that you don't want to look too provocative, but you will definitely look original in such dresses.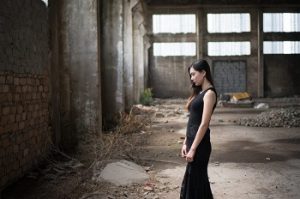 Some tips on how to dress for a wedding as a guest
If you still can't decide how to dress for the wedding as a guest, simply choose clothes that meet criteria such as etiquette (decency and respect at the forefront), circumstances (here we can mention the place, the time of the wedding and the requirements of the happy couple), comfort of the clothes (logically) and, finally, taste as to what you think is nice and what is not.
If you meet all these criteria, practically nothing can go wrong. You'll feel great, you won't cause social unrest, plus you'll look the way you want to look. We hope you will have a great time at the wedding and enjoy both the ceremony and the festivities.