How to dress
How to dress for a funeral?
Respecting the occasion: choosing the right outfit for a funeral
Funeral events are not among the topics which are discussed very often. All in all, there is nothing positive about it – a person you knew has passed away and now you have to say goodbye. However, the problem can arise when you have to choose what clothes to wear to the funeral. It is often the case that people have no idea what to wear to a funeral. Sometimes it can be really embarrassing or offensive to the family, who has to witness disrespect from a person who showed up at the funeral being dressed really inappropriately. Therefore, in the following article we will find out what to wear and what not to wear to a funeral so that there are no problems.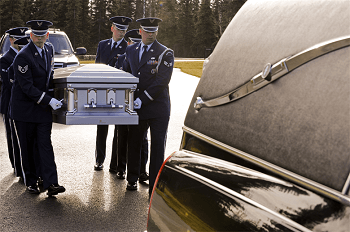 What to wear and how to dress for a funeral
The first requirement of any funeral is simply blackness. The black color should always be chosen, as it is not only required by the family of the deceased, but also expresses grief at the loss of the person.
Traditionally, one is expected to attend a funeral in a conservative style, with no modern or unconventional outfits. The idea of a funeral is to say goodbye to the person one knew, not to shine among people or attract unwanted attention.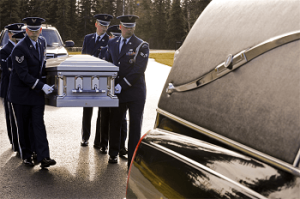 Traditional funeral attire, i.e. jacket, dress, skirt in black is an idea of the western culture. However, it does not necessarily apply everywhere and not necessarily for all religions.
In this article, we will focus on traditional western funerals, but if you are attending a funeral associated with an eastern culture or religion, you should first consult this with someone who is knowledgeable about what to wear, how the funeral will be conducted and what is required of you, as this may be a completely different type of a funeral.
While deciding on taking part in a funeral, which will be held in the traditional christian vein of western culture, there are several things to keep in mind:
First of all, one goes there to say goodbye to the deceased person (whether one knew him or her well or not).
At a funeral, respect and reverence should be shown to the deceased person and the bereaved family.
One should certainly not go there with the idea that the main purpose is to have fun, show off or meet people.
Dignity is very important at a funeral, so try not to spoil it by an inappropriate dress for the ceremony.
What should women wear to a funeral?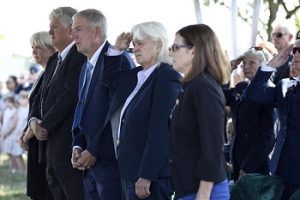 A woman's attire should be more conservative and unobtrusive. The most typical outfit that can be worn to a funeral as a safe option is a black dress and simple shoes. You can also try wearing a skirt instead of a dress, but it must not reach above knee.
In addition, it is allowed to wear a skirt with a blouse or sweater or black pants with a long-sleeved shirt.
The main premise of a woman's outfit for a funeral should be modesty and inconspicuousness. Absolutely your outfit must not reveal more of your body than it's allowed by the decency and the etiquette! The purpose of the outfit is not to show off too much, but to express mourning and respect towards the deceased.
At most funerals applies a traditional, conservative style of dress, but over time a more modern style of dress is slowly being adopted, with slightly brighter colors.
If you're not sure what kind of funeral it will be, or you don't know the family of the deceased well, it's better to opt for a more traditional, conservative style of dress – you can't blunder by wearing it. 
What should men wear to a funeral?
Traditionally, men are required to have a certain standard of dress for a funeral. It is usually recommended to wear a black suit and a buttoned shirt which should be tied at the waist.
Jeans are absolutely gross at a funeral (although an exception can be made for black jeans if the funeral is not very, very austere or if the family of the deceased is not very traditional).
You should definitely avoid sneakers, sandals and similar pointless footwear that simply should not be worn to a funeral. Classic black or dark brown leather shoes should be worn. As for headwear, bowler hats and sports caps should be avoided.
The look should generally correspond to the present-day business attire. If you want to wear something other than black, you can try a dark gray jacket or something in darker shades, but don't overdo it too much.
What not to wear to a funeral?
Since the standard at funerals is black – logically – any bright and cheerful colors should be avoided. Although colors other than black are acceptable, they must not be too bold nor too bright.
For both sexes, do not expose too much body, i.e., do not wear low necklines (preferably none at all), shorts, short sleeves (unless the weather calls for it), nor sandals, sneakers, athletic shoes, etc.
Avoid also clothing with prints and logos. The purpose of the outfit is to express grief over the loss of a person, not to snow everyone under with your outfit.
Think of dressing as if you were going to a church service or a job interview.
What to wear to a funeral in winter?
Winter funerals can be a bit trickier, although the standard rules for dressing for a funeral still apply. In addition to the outfits mentioned above, for the sake of your health, don't forget a darker scarf, gloves and even a hat. In case of bad conditions outside, you should also bring a black (and only black) umbrella.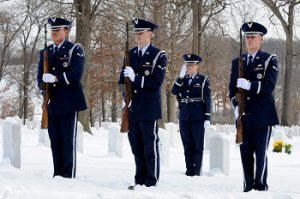 A woman's winter outfit for a funeral should necessarily include a classic black winter coat, which will keep her warm both during the service in church and outside during the burial of the deceased.
Of course, you cannot miss gloves, scarf and hat in dark colors. As for shoes, you can use some sturdy, tall rain boots.
For men, the etiquette for dressing for a funeral is more or less the same. You should definitely bring a good quality black winter coat, a dark-colored scarf and dark-colored leather gloves.
Don't forget also some thick black cotton socks. During the rainy weather, choose sturdy shoes that can be swapped for more stylish footwear when walking.
Children should follow the example of their parents. Therefore, they should be dressed in a darker jacket, sturdy rain boots and black pants. Try to avoid bright colors, as they may not make a good impression at the funeral, even for children.
What to wear to a funeral in summer?
If you have to dress for a funeral that takes place in the summer, you can wear slightly thinner clothes. Try to choose clothes that are not made of synthetic fabrics and can breathe, as you won't sweat as much in them. You can also bring black sunglasses.
To create a feminine outfit for summer, you can try a knee-length black skirt and a light blouse (which must not be transparent under any circumstances).
Of course, other outer garments can also be used, but they must not expose too much of the body (shoulders and chest).
Definitely do not wear mini skirts, leggings or other tight things to a funeral in summer. Black, gray or navy blue clothes can be worn.
Under no circumstances should men wear short pants, shorts or anything that exposes their legs. They should wear long black pants, shoes and a shirt (can be short-sleeved). Black socks should also not be forgotten.
Some exceptions are possible for children, but they should follow the dress code set by their parents. If it is too hot, students can wear short pants and a dark short-sleeved shirt, but be sure not to give them sandals as a footwear. Rather, they should be dressed in some nice shoes.
Final tips on how to dress appropriately for a funeral
Although the way to dress for a funeral may seem a bit complicated, it is not that difficult. All you have to do is to think of such an event in a conservative and traditional way, and then ask yourself questions about your attire:
Will I not offend the bereaved family or those attending the funeral with my attire?
Do I express respect and reverence for the deceased and his family with my attire?
Will I not behave provocatively in the eyes of people at the funeral?
If you answered these questions correctly, you have nothing to worry about. We hope that this article has helped you get acquainted with the issue of dressing for a funeral.