How to dress
How to dress for a christening?
Dressing for a Christening: A Guide to Choosing the Right Outfit for a Special Occasion
A christening is one of the most important events, especially for those who have been invited to it as godparents. The problem for many people, however, is that they are not sure what they should wear to a christening. This is not a wedding, a funeral, a Nobel Prize or an Oscar win, but something completely different and distinct. So how to approach baptism and how to dress for it? You will find the answers how to dress for a christening in the following lines.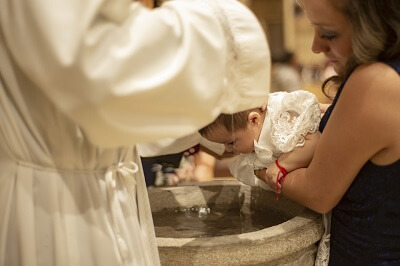 What to wear to a christening?
At some point in your life, there will come a time when you have to go to someone's child's christening. Whether you will be an aunt, uncle, godfather or godmother, you should try to look your best and most appropriate at the baptism.
Unless the host (or hostess) of the baptism specifies a theme for the baptism, you can decide for yourself what to wear.
However, there are some rules to follow while deciding on the outfit.
It's a little easier for men than for women, because they have a much narrower choice of clothes which are suitable for a baptism (so men don't have to stress about clothes).
As time has passed, church events have become more and more informal, although the traditional conservative theme still remains.
What you wear to a baptism expresses both your attitude toward the event itself, the child's family, whom you want to show respect and reverence, your attitude toward tradition, and your mood. That's why it's important to think about what you want to wear to the christening.
How to choose clothes for a christening?
Landmarks that should help you dress appropriately for baptism are:
The event itself (regardless of the church, such an event is one of the most important, so be aware that you're at a baptism and behave with respect).
The location of the baptism (e.g., in churches – especially older churches, which tend to be very large and cold) will give you a clue as to the theme and setting of the baptism, and what you should wear from a practical standpoint (logically, you should wear something warmer if you will be in an unheated, cold church, or conversely, something lighter if the baptism will take place outside during sunny and warm summer).
Appearance vs. comfort – you need to consider whether you can put up with your clothes for the entire ceremony (which can sometimes be quite long) without going crazy (for example, clothes like a corset better to leave at home).
Decency – don't wear anything provocative or overly expressive, because you're there for the event itself, not to make all heads turn for you.
Black color = NO, just don't wear any black suits, dresses or anything in a macabre style. Black color should be used at funerals and at work (because both are terribly depressing). Therefore, avoid black outfits for christenings – this is supposed to be a joyful event, not a sad one.
Tips for women on how to dress for a christening
Women who want to dress appropriately for a christening may have a bit of a dilemma as to what they should wear and what not to wear. However, some tips can be found:
The absolute standard for a baptism is a simple knee-length dress, in which there is no risk of a fashion blunder. Short dresses should definitely be avoided (forget about miniskirts, they don't suit). If you are a fan of long floor-length dresses, feel free to wear one.
As for the feminine neckline of the dress, definitely do not overdo it – after all, this is a baby's christening, not some party. The neckline should be individually tailored to each woman, that is, to her figure. It is best (if it is a formal christening) to have a covered neckline.
You can wear a dress with a neckline below the bust, which widens to the A-line. This type of dress fits any figure, as it covers the hips and thighs and slightly emphasizes the hourglass shape.
When it comes to shoes, consider which ones match your dress and possibly whether they will go with the overall outfit. Do not wear shoes with high heels nor stilettos. Rather, choose lower ones.
If you plan to wear a dress in which your legs will be exposed, you should not forget about stockings, which will add the right charm to the whole outfit.
As for handbags, forget about extravagantly large bags. Instead, bring something smaller and more practical (small handbags – so-called "briefcases").
When it comes to jewelry, you have to think soberly. It certainly won't hurt you to wear something small, such as pearls, or even something more conspicuous if it matches the dress, but jewelry should not be too conspicuous.
Types of christening clothes for women
Coat – if you need to find an excuse to wear your new luxurious coat, a christening can be just such an excuse. If you have something to go with it, there's no reason not to bring it along.
Jeans and a nice blouse – this combination is probably the most versatile and reliable option for virtually any event. It is a relatively appropriate type of outfit that can be combined with practically everything. You can wear to it low-heeled shoes and a simple blazer, and there you are – ready to go to the christening.
Midi dresses – nothing suits summer christenings like a simple midi dress that is neither too provocative nor too conservative. They are simply something in between.
Moreover, you won't sweat excessively in them in the summer. If you want to wear something to the church so that you don't get too cold, you can wear a light jacket or blazer which goes well with them. Add simple shoes with a small heel and you're good to go for the christening.
Hat – for this item is a bit debatable, as it depends on what kind of hat you bring (it shouldn't be too extravagant) and whether it will match the rest of your outfit for the christening (which is not that easy). Also, don't forget to think about what is the norm in the community and whether the clothes you are going to wear would be unusual for a baptism. If you have the green light in all the little questions, go ahead.
Women's jumpsuits – a great choice between style and comfort, as they are very comfortable to wear and look great. If you have a full bodysuit for a formal occasion such as a christening, you can definitely wear it.
Tips for men for christenings
As such, baptisms shouldn't be a complicated thing where you have to think about what to wear. Basically, you only have a few options to choose from.
The baptism dress etiquette for men is very similar to the etiquette of weddings. The absolute easiest option for you will be a classic gray suit.
However, it is not recommended to combine the different parts of the outfit, because it is a relatively complicated process that can be ruined, and the result will not be worth it (if you don't have any experience in this, it is better to avoid clothing which does not make up a set). In addition, it may look a bit too casual.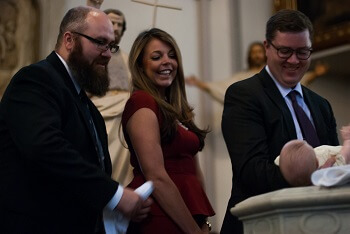 If you're not a big fan of gray suits, you can wear for a christening a complete navy blue suit (which is a great compromise between black and gray). You can combine it with black or brown shoes, for example.
Such a suit in navy blue color is suitable both for the formal part of the christening and for the party, possibly for the christening ceremony – so it will suit perfectly in any conditions.
What to wear to a christening in winter?
In winter, it is always best to choose a darker outfit (can be dark blue / cerulean or dark brown). In winter people wear relatively darker clothes, and it often rains or snows, so clothes in dark chocolate shades or a dark gray suit are going to look better at christenings.
An important factor to watch out for in winter is to never wear boots for the baptism nor other shoes which are made of suede (you just never know when the weather will change and it will get very wet and damp).
Choose more sturdy shoes that will impress others and look good (ones that you would also take to a wedding or a job interview). This is also useful if you are a relative of the child, as you are more likely to meet more seniors at the christening who are also relatives of the child.
What to wear to a christening in summer?
Summer baptisms are the perfect opportunity to have a little fun by choosing baptism outfits in brighter colors.
While you should definitely not go overboard with colors in the form of a bright yellow suit, nothing will happen at summer baptisms if you wear a slightly paler or lighter gray suit.
The advantage of summer (or for some people) is that you don't have to tie a tie for a christening. Of course, this depends on each person's personal, subjective preference and, of course, also on whether the host of the christening has some specific requirements, or possibly whether the baptism will be conducted in a more formal spirit.
Recommendations at the end
A baptism of a child should be a joyful event for all those invited, so it should be conducted in a good positive mood.
Although the dress etiquette for baptism is not strictly defined, the above tips should help you get an idea of what you can and what you definitely should not wear to your or someone else's child's baptism.