Bras
How to Measure Your Bra Size at Home?
If you've ever wondered how to measure your bra size at home, then you've come to the right place. In the steps below we will show you how to do just that.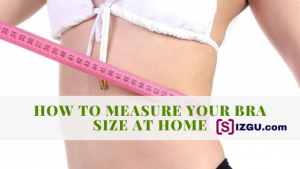 Have you gone to measure your bra size at a fancy Boutique, lingerie store or even the women's department at a major retailer? You know that even then you can't be certain of the correct bra fit. There are numerous methods to measure your bra size, and different philosophies behind them. You may go to one store and come away with one bra size and then go to another store and end up with a completely different size.
The most sensible thing to do is to measure your bra size at home. At least then you'll have an objective measure to compare results to.
Tips to measure your bra size at home
Does your bra band rise up on your back?
If it does your bra is too large or possibly needs to be tightened. If you find that it is still too loose (after adjusting the band) ten it's time to go down a size (bra band size) and maybe even a cup size.
Do your breasts push out over the top of the bra or bulge underneath the cup?
If so, then your bra cups are too small and you should consider going up a cup size.
Do your bra cups pucker or gap?
If you can't fill out the cups, the bra is too large. Knowing how to measure your bra size at home will come in handy.
Do the straps slip or slide around?
After adjusting the straps, if they still fall off, either the band is too big or your bra has lost some of the elasticity. Another tip, if you suffer from sloped shoulders, try a racerback bra or a style with convertible straps.
Do you feel the straps cutting into your shoulders?
If you do, try loosening the straps. If that doesn't fix it, the cups are probably too small and you want to go up in cup size.
Does the wire poke or stick you?
If yes, you're wearing a cup size too small. Find more tips below on how to measure bra size at home. These indicate proper sizing.
Bra Too Small
Spillover on top or sides, feels too tight
Center section puckers and will not lie flat
Underwires poke or rise
Bra Too Big
Cups wrinkle or gap
Straps still slide off after adjusting them
Bra with Correct Fit
Notice smooth cups
Center section will lay flat
The band fits low and even
Steps how to measure bra size at home
1. Find Your Band Size
Make sure to wear a lightly-lined or unpadded bra before measuring your band size. Take out a measuring tape and wrap it snugly across your back, keeping it parallel to the ground, and measure directly under your bust. Round down to the nearest even number and note your band size.
Read also:
2. Measure Your Bust Size
Keep the measuring tape around your back at band level and measure across the fullest part of your chest, making sure to hold the measuring tape snugly against you and parallel to the ground. If it falls on the half-inch, just round up. That's your bust size!
3. Determine Your Cup Size
The most common way to calculate your cup size is by subtracting your band size from your bust size and using the difference to find your cup size according to a bra size chart.
At webpage SIZGU.com, we feature articles on shopping bra tips, measurement, proper fitting techniques, etc. The link to the bra size calculator is the easiest way to find a great bra fit.