Bras
Bra Sizes in Order, a List of All Bra Sizes
Bra sizes can be a source of confusion and frustration for many women. Finding the right fit, style, even what the choices of size are can be a mystery. We have made it easy by our list of bra sizes in order. This is the most complete list we could find and should indicate all bra sizes. We get many questions and one basic one is what are bra sizes?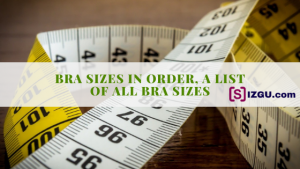 What are the bra sizes?
Believe it or not, the very basics of bra sizes elude people. Please read on or jump to the chart below for a the quick answer! Beginning at an early age when puberty begins most girls purchase their first "training" bra. Their Mother proudly takes them to the department store for their first bra sizing. What are the bra sizes? Stay tuned!
The teenage years show many changes in the young woman's body and the need for the correct bra size becomes even more of a necessity. All bra size change quickly and many younger women are fuller breasted than they have been in history. Many web visitors have asked us for list of bra sizes in order.
Over the years the woman's body is constantly changing. Between puberty, birth control, child bearing and breast density changes equate to bra size changes. Even a weight change of 5 – 10 pounds can change your bra size. These life changes affect the size bra you wear. Most bra experts suggest you should be measured for a new bra every year. Please see the chart below for a list of all bra sizes in order.
All Bra Sizes Chart
Cup size
U.S.
U.K./Australian
International
AA
AA
AA
A
A
A
B
B
B
C
C
C
D
D
D
DD
DD
E
F or DDD
E
F
G or DDDD
F
G
H
FF
H
I
G
I
J
GG
J
K
H
K
L
HH
L
M
J
M
N
JJ
N
O
K
O
Read also:
Most women have been wearing the same bra size for most of their lives, not realizing the need for a regular bra fitting. As you can see bra sizes vary around the world, but also by local manufacturers. Finding the correct fit can be tricky a great place to start is this website! You can see the bra comparison chart above, it's a list of bra sizes in order.
Check your measurements regularly. All you will need is a flexible tape measure or string with a ruler and a notepad and pencil to determine your perfect bra size. Correct measuring and trying on the bra in the store is very important for purchasing the correct size. Many stores have all bra sizes in order, or a similar chart to assist in purchasing the bra.