Bras
Biggest Bra Size Available
Several women have claimed title to the "world's largest breasts" crown and each of them have a different bra size. For this reason the biggest bra size available is hard to pinpoint.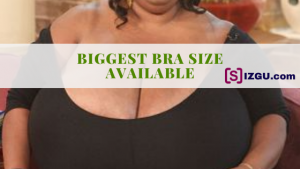 What is the Biggest Bra Size?
We will mention each of the women here briefly along with their bra sizes, YouTube Videos and pics. The answer to the question also depends on if you are asking in realistic terms, or just looking for a "Gussiness World Record" type answer.
Certainly custom bra manufacturers can create any bra size that you want, but there are standard bra sizes that are available on the shelf of most retailers.
List of Largest Bra Sizes
Annie Hawkins-Turner
The largest natural breasts title belongs to Annie Hawkins-Turner (AKA Norma Stitz) who wears a 52I bra size, the largest made according to Guinness. We did locate a 58J available online. Another source quotes her bra size as 102ZZZ, which is a mystery, since Guinness has her bust measurement at around 70 inches. It's possible that they continued to grow!
Regardless, Annie was actually awarded the Guinness World Record title in 2000 and holds the "official" title. For many factoid seekers, this may answer the question what is the biggest bra size. She has a contender for the title, but she's not a natural.
Mayra Hills
Mayra Hills is a nude model from Germany, but she is better known as "Beshine", her moniker for modeling. Her bra size measures 59-28-36 and she claims to have the world's largest fake breasts with her 32 Z-Cup, thus making the 32Z the worlds largest bra size.
This would not be commercially available, but a custom bra cup size. It's not clear where this size comes from, as the the bust size (in her case a 59) should figure into the bra size. We will show pictures of each women below and let you see for yourselves.
Read also:
What is biggest bra size made commercially and readily available?
As we mentioned earlier, we found 58J available online, but they say they can accommodate up to a cup size N. Purchasing online may not be a good idea due to fitting concerns, but may be your only option outside of a custom made bra. You would need to call your local retailer and ask what are the biggest bra sizes they carry, if you want to shop in person.