Size charts Zara women's, men's and children's clothing, formal and elegant apparel shirts, jackets, pants, t-shirts, sweaters, stockings and leggings Zara…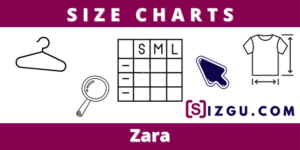 Fashion brand Zara comes from Spanish Galicia. Its goal was to create affordable versions of extra luxury clothing. Today is Zara widespread worldwide. It offers not only clothing and footwear, but also jewelry and accessories for women, men and children in different price categories.
The company is unique in the rapid introduction of products to the market, so it is able to keep current fashion trends and respond in time to customer demand.
Size chart of Zara shoes
The values in the size charts refer to the length of the foot, not the length of the shoe.
Size chart of women's shoes
| | | | | | | | | |
| --- | --- | --- | --- | --- | --- | --- | --- | --- |
| EU sizes | 35 | 36 | 37 | 38 | 39 | 40 | 41 | 42 |
| US sizes | 5 | 6 | 6.5 | 7.5 | 8 | 9 | 10 | 11 |
| Foot Length (in cm) | 22.8 | 23.4 | 24 | 24.6 | 25.3 | 26 | 26.6 | 27.3 |
Size chart of women's shoes Zara – dual sizes
| | | | |
| --- | --- | --- | --- |
| EU sizes | 36/37 | 38/39 | 40/41 |
| Foot Length (in cm) | 24 | 25.3 | 26.6 |
Size chart for men's shoes
| | | | | | | | | | |
| --- | --- | --- | --- | --- | --- | --- | --- | --- | --- |
| EU sizes | 39 | 40 | 41 | 42 | 43 | 44 | 45 | 46 | 47 |
| UK sizes | 5 | 6 | 7 | 8 | 9 | 10 | 11 | 12 | 13 |
| US sizes | 6 | 7 | 8 | 9 | 10 | 11 | 12 | 13 | 14 |
| Foot Length (in cm) | 25.3 | 25.8 | 26.4 | 27 | 27.6 | 28.3 | 28.9 | 29.6 | 30.3 |
Childrens shoe size charts Zara
| | | | | | | | | |
| --- | --- | --- | --- | --- | --- | --- | --- | --- |
| EU sizes | 26 | 27 | 28 | 29 | 30 | 31 | 32 | 33 |
| Age | 4 | 4 | 5 | 5 | 6 | 6 | 7 | 8 |
| Foot Length (in cm) | 16.2 | 16.8 | 17.5 | 18.2 | 18.8 | 19.5 | 20.2 | 20.9 |
| | | | | | | | |
| --- | --- | --- | --- | --- | --- | --- | --- |
| EU sizes | 34 | 35 | 36 | 37 | 38 | 39 | 40 |
| Age | 9 | 10 | 11 | 12 | 13-14 | 14 | 14 |
| Foot Length (in cm) | 21.6 | 22.2 | 22.9 | 23.6 | 24.2 | 24.9 | 25.6 |
Children's shoe sizes – double sizes
| | | | | | | | |
| --- | --- | --- | --- | --- | --- | --- | --- |
| EU sizes | 26-27 | 28-29 | 30-31 | 32-33 | 34-35 | 36-37 | 38-39 |
| Age | 4 years | 5 years | 6 years | 7-8 years | 9-10 years | 11-12 years | 13-14 years |
| Foot Length (in cm) | 16.2-16.8 | 17.5-18.2 | 18.8-19.5 | 20.2-20.9 | 21.6-22.2 | 22.9-23.6 | 24.2-24.9 |
Zara shoe size chart for newborns
| | | | |
| --- | --- | --- | --- |
| EU sizes | 13 | 15-16 | 17-18 |
| Age | 0-3 months | 3-6 months | 6-9 months |
| Foot Length (in cm) | 8 | 10 | 11 |
Size chart of infants' shoes
| | | | | | | | | |
| --- | --- | --- | --- | --- | --- | --- | --- | --- |
| EU sizes | 18 | 19 | 20 | 21 | 22 | 23 | 24 | 25 |
| Age | 6-9m | 9-12m | 1y | 1y | 2y | 2y | 3y | 3y |
| Foot Length (in cm) | 10.8 | 11.5 | 12.2 | 12.8 | 13.5 | 14.2 | 14.8 | 15.5 |
You could be also interested in size charts and guides:
Size charts for women's clothing Zara
Clothes
| | | | | | | | |
| --- | --- | --- | --- | --- | --- | --- | --- |
| Size | 34 | 36 | 38 | 40 | 42 | 44 | 46 |
| US sizes | 26 | 27 | 28 | 29 | 30 | 31 | 32 |
| Chest circumference (in cm) | 82 | 86 | 90 | 94 | 98 | 102 | 106 |
| Waist circumference (in cm) | 64 | 66 | 70 | 74 | 78 | 82 | 86 |
| Hips circumference (in cm) | 90 | 94 | 98 | 102 | 106 | 110 | 114 |
| | | | | | | | |
| --- | --- | --- | --- | --- | --- | --- | --- |
| Size | XXS | XS | S | M | L | XL | XXL |
| Chest circumference (in cm) | 80 | 82 | 86 | 90 | 96 | 102 | 108 |
| Waist circumference (in cm) | 58 | 62 | 66 | 70 | 76 | 82 | 88 |
| Hips circumference (in cm) | 86 | 90 | 94 | 98 | 104 | 110 | 116 |
Stockings and leggings Zara
| | | |
| --- | --- | --- |
| Size | S/M | M/L |
| Height (in cm) | 160-170 | 165-180 |
| Weight (in kg) | 45-65 | 55-80 |
| Hips circumference (in cm) | 94-98 | 98-104 |
Swimsuits
| | | | |
| --- | --- | --- | --- |
| Size | S | M | L |
| Chest circumference (in cm) | 85 | 90 | 95 |
| Hips circumference (in cm) | 95 | 100 | 105 |
Size charts for men's clothing
Coats, T-shirts, polo shirts and sweaters Zara
| | | | | | |
| --- | --- | --- | --- | --- | --- |
| Size | S | M | L | XL | XXL |
| Chest circumference (in cm) | 91-96 | 96-101 | 101-107 | 107-112 | 112-117 |
Suits and jackets
| | | | | | | | |
| --- | --- | --- | --- | --- | --- | --- | --- |
| Size | XXS | S | M | L | XL | XXL | XXXL |
| EU sizes | 44 | 46 | 48 | 50 | 52 | 54 | 56 |
| UK - USA sizes | 34 | 36 | 38 | 40 | 42 | 44 | 46 |
| Chest circumference (in cm) | 88-90 | 92-94 | 96-98 | 100-102 | 104-106 | 108-110 | 112-114 |
Shirts
| | | | | | |
| --- | --- | --- | --- | --- | --- |
| Size | S | M | L | XL | XXL |
| EU sizes | 38 | 40 | 42 | 44 | 46 |
| UK - USA sizes | 14 | 15 | 16 | 17 | 18 |
| Chest circumference (in cm) | 91-96 | 96-101 | 101-107 | 107-112 | 112-117 |
Jeans and trousers
| | | | | | | | |
| --- | --- | --- | --- | --- | --- | --- | --- |
| EU sizes | 36 | 38 | 40 | 42 | 44 | 46 | 48 |
| IT sizes | 42 | 44 | 46 | 48 | 50 | 52 | 54 |
| UK - USA sizes | 29 | 30 | 31 | 32 | 34 | 36 | 38 |
| Waist circumference (in cm) | 72-73 | 76-77 | 80-81 | 84-85 | 88-89 | 92-93 | 96-97 |
| Hips circumference (in cm) | 91-92 | 95-96 | 99-100 | 103-104 | 107-108 | 111-112 | 115-116 |
Sports pants, tracksuits, shorts and underwear Zara
| | | | | | | |
| --- | --- | --- | --- | --- | --- | --- |
| Size | XS | S | M | L | XL | XXL |
| Waist circumference (in cm) | 66-72 | 72-78 | 78-84 | 84-90 | 90-96 | 96-102 |
Check also sizes of clothes:
Size charts for children's clothing
| | | | | | | | | | |
| --- | --- | --- | --- | --- | --- | --- | --- | --- | --- |
| Size | 0-1 | 1-3 | 3-6 | 6-9 | 9-12 | 12-18 | 18-24 | 2-3 | 3-4 |
| Age | 0-1m | 1-3m | 3-6m | 6-9m | 9-12m | 12-18m | 18-24m | 2-3y | 3-4y |
| Height (in cm) | 56 | 62 | 68 | 74 | 80 | 86 | 92 | 98 | 104 |
| Chest circumference (in cm) | 41 | 43 | 45 | 47 | 49 | 51 | 53 | 55 | 56 |
| Waist circumference (in cm) | 42 | 44 | 46 | 48 | 49 | 50 | 51 | 52 | 53 |
| Hips circumference (in cm) | 43 | 45 | 47 | 49 | 51 | 53 | 55 | 57 | 58 |
| | | | | | | | | |
| --- | --- | --- | --- | --- | --- | --- | --- | --- |
| Size | 5 | 6 | 7 | 8 | 9 | 10 | 12 | 14 |
| Age | 5y | 6y | 7y | 8y | 9y | 10y | 11-12y | 13-14y |
| Height (in cm) | 110 | 116 | 122 | 128 | 134 | 140 | 152 | 164 |
| Chest circumference (in cm) | 59 | 62 | 65 | 68 | 71 | 74 | 79 | 84 |
| Waist circumference (in cm) | 55 | 57 | 59 | 61 | 63 | 65 | 68 | 71 |
| Hips circumference (in cm) | 61 | 64 | 67 | 70 | 73 | 76 | 81 | 86 |