On this page you will find the Dockers size charts. Not sure what size will fit you best? Find perfect size for you with our Dockers size guides. Dockers makes belts, pants, leather wallets, shoes and other apparel.
Dockers is an American brand of garments and other accessories from Levi Strauss & Co.
Levi Strauss & Co., is specializing in denim, introduced the Dockers brand in 1986. Dockers became a leading brand of business casual clothing for men under the leadership of Bob Siegel. In 1987, Dockers introduced a women's line. In 1993 the Dockers brand was introduced into Europe under the leadership of Joe Middleton.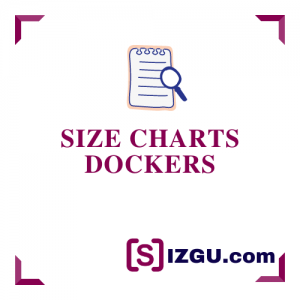 Women's Dockers Size Charts
Tops
Size
Sleeve
Bust
inch
cm
inch
cm
S
30½
77½
35½
90
M
31
78½
37½
95½
L
31½
80
40½
103
XL
32¼
82
43½
110½
Pants
Size
Waist
Hips
inch
cm
inch
cm
0
25
63½
34½
87½
2
26¼
66½
35¾
91
4
27½
70
37
94
6
28½
72½
38
96½
8
29½
75
39
99
10
30½
77½
40
101½
12
32
81½
41½
105½
14
33½
85
43
109
16
35
89
44½
113
18
37
94
46½
118
| Length | Inseam (inch) | Inseam (cm) |
| --- | --- | --- |
| Short | 30 | 76 |
| Medium | 32 | 81½ |
| Long | 34 | 86½ |
Plus Pants
Size
Waist
Hips
inch
cm
inch
cm
16
36
91½
46
117
18
38
96½
48
122
20
40
101½
50
127
22
42
106½
52
132
24
44
112
54
137
26
46
117
56
142
28
48
122
58
147½
| Length | Inseam (inch) | Inseam (cm) |
| --- | --- | --- |
| Short | 29 | 73½ |
| Medium | 31 | 78½ |
| Long | 33 | 84 |
Pants – Curvy Fit
Size
Waist
Hips
inch
cm
inch
cm
0
24½
62
35
89
2
25¾
65½
36¼
92
4
27
68½
37½
95½
6
28
71
38½
98
8
29
73½
39½
100½
10
30
76
40½
103
12
31½
80
42
106½
14
33
84
43½
110½
16
34½
87½
45
114½
18
36½
92½
47
119½
| Length | Inseam (inch) | Inseam (cm) |
| --- | --- | --- |
| Short | 30 | 76 |
| Medium | 32 | 81½ |
| Long | 34 | 86½ |
Petite Pants
Size
Waist
Hips
inch
cm
inch
cm
0
24½
62
34
86½
2
25¾
65½
35¼
89½
4
27
68½
36½
92½
6
28
71
37½
95½
8
29
73½
38½
98
10
30
76
39½
100½
12
31½
80
41
104
14
33
84
42½
108
16
34½
87½
44
112
18
36½
92½
46
117
| Length | Inseam (inch) | Inseam (cm) |
| --- | --- | --- |
| Short | 29 | 73½ |
| Medium | 29 | 73½ |
| Long | 31 | 78½ |
Petite Pants – Curvy Fit
Size
Waist
Hips
inch
cm
inch
cm
0
24
61
34½
87½
2
25¼
64
35¾
91
4
26½
67½
37
94
6
27½
70
38
96½
8
28½
72½
39
99
10
29½
75
40
101½
12
31
78½
41½
105½
14
32½
82½
43
109
16
34
86½
44½
113
18
36
91½
46½
118
| Length | Inseam (inch) | Inseam (cm) |
| --- | --- | --- |
| Short | 29 | 73½ |
| Medium | 29 | 73½ |
| Long | 31 | 78½ |
---
Check also:
---
Men's Dockers Size Charts
Shirts and Sweaters
Size
Neck
Sleeve
Chest
inch
cm
inch
cm
inch
cm
S
14 - 14½
35½ - 37
32 - 33
81½ - 84
34 - 36
86½ - 91½
M
15 - 15½
38 - 39½
33 - 34
84 - 86½
38 - 40
96½ - 101½
L
16 - 16½
40½ - 42
34 - 35
86½ - 89
42 - 44
106½ - 112
XL
17 - 17½
43 - 44½
35 - 36
89 - 91½
46 - 48
117 - 122
XXL
18 - 18½
45½ - 47
36 - 37
91½ - 94
50 - 52
127 - 132
Pants and Shorts
| Size | Waist (inch) | Waist (cm) |
| --- | --- | --- |
| S | 30 | 76 |
| M | 34 | 86½ |
| L | 38 | 96½ |
| XL | 42 | 106½ |
| XXL | 44 | 112 |
Shoes
| US Size | Euro Size | IN | CM |
| --- | --- | --- | --- |
| 7 | 39-40 | 10.3 | 26.25 |
| 7.5 | 40 | 10.5 | 26.67 |
| 8 | 41 | 10.66 | 27.09 |
| 8.5 | 41-42 | 10.8 | 27.52 |
| 9 | 42 | 11 | 27.94 |
| 9.5 | 42-43 | 11.16 | 28.37 |
| 10 | 43 | 11.3 | 28.79 |
| 10.5 | 44 | 11.5 | 29.21 |
| 11 | 44-45 | 11.66 | 29.63 |
| 11.5 | 45 | 11.8 | 30.06 |
| 12 | 46 | 12 | 30.48 |
| 12.5 | 46-47 | 12.16 | 30.93 |
| 13 | 47 | 12.3 | 31.33 |
| 13.5 | 47-48 | 12.5 | 31.75 |
| 14 | 48 | 12.66 | 32.17 |
| 14.5 | 49 | 12.8 | 32.6 |
| 15 | 49-50 | 13 | 33.02 |
| 15.5 | 50 | 13.16 | 33.44 |
| 16 | 51 | 13.3 | 33.87 |
| 16.5 | 51-52 | 13.5 | 34.29 |
| 17 | 52 | 13.66 | 34.71 |
| US Size | Euro Size | IN | CM |
| --- | --- | --- | --- |
| 7 | 39-40 | 10.3 | 26.25 |
| 7.5 | 40 | 10.5 | 26.67 |
| 8 | 41 | 10.66 | 27.09 |
| 8.5 | 41-42 | 10.8 | 27.52 |
| 9 | 42 | 11 | 27.94 |
| 9.5 | 42-43 | 11.16 | 28.37 |
| 10 | 43 | 11.3 | 28.79 |
| 10.5 | 44 | 11.5 | 29.21 |
| 11 | 44-45 | 11.66 | 29.63 |
| 11.5 | 45 | 11.8 | 30.06 |
| 12 | 46 | 12 | 30.48 |
| 12.5 | 46-47 | 12.16 | 30.93 |
| 13 | 47 | 12.3 | 31.33 |
| 13.5 | 47-48 | 12.5 | 31.75 |
| 14 | 48 | 12.66 | 32.17 |
| 14.5 | 49 | 12.8 | 32.6 |
| 15 | 49-50 | 13 | 33.02 |
| 15.5 | 50 | 13.16 | 33.44 |
| 16 | 51 | 13.3 | 33.87 |
| 16.5 | 51-52 | 13.5 | 34.29 |
| 17 | 52 | 13.66 | 34.71 |
INTERNATIONAL CONVERSIONS
| DOCKERS SIZE | FRANCE | GERMANY | ITALY | SPAIN | UK | RUSSIA |
| --- | --- | --- | --- | --- | --- | --- |
| 28/29 | 38/40 | 28/29 | 38/40 | 71 | 28/29 | 44/46 |
| 30/31 | 40/42 | 30/31 | 40/42 | 76 | 30/31 | 46/48 |
| 32/33 | 42/44 | 32/33 | 42/44 | 81 | 32/33 | 48/50 |
| 34 | 44 | 34 | 44 | 87 | 34 | 50 |
| 36 | 46 | 36 | 46 | 92 | 36 | 52 |
| 38 | 48 | 38 | 48 | 97 | 38 | 54 |
| 40 | 50 | 40 | 50 | 102 | 40 | 54/56 |
| 42 | 52 | 42 | 52 | 107 | 42 | 56/58 |
FIND YOUR DOCKER'S WAIST SIZE

| SIZE | WAIST(in) | SEAT(in) | THIGH(in) |
| --- | --- | --- | --- |
| 28 | 27.75 - 28.75 | 33.75 - 34.75 | 19.75 - 20.25 |
| 29 | 28.75 - 29.75 | 34.75 - 35.75 | 20.25 - 20.75 |
| 30 | 29.75 - 30.75 | 35.75 - 36.75 | 20.75 - 21.25 |
| 31 | 30.75 - 31.75 | 36.75 - 37.75 | 21.25 - 21.75 |
| 32 | 31.75 - 32.75 | 37.75 - 38.75 | 21.75 - 22.25 |
| 33 | 32.75 - 33.75 | 38.75 - 39.75 | 22.25 - 22.75 |
| 34 | 33.75 - 34.75 | 39.5 - 40.25 | 22.75 - 23.25 |
| 35 | 34.75 - 35.75 | 40.5 - 41.5 | 23.25 - 23.75 |
| 36 | 35.75 - 36.75 | 41.5 - 42.25 | 23.75 - 24.25 |
| 38 | 37.75 - 38.75 | 42.25 - 43.5 | 24.25 - 25 |
| 40 | 39.75 - 40.75 | 43.5 - 44.75 | 25 - 25.75 |
| 42 | 41.75 - 42.75 | 44.75 - 46 | 25.75 - 26.5 |
| 44 | 43.75 - 44.75 | 46 - 47.25 | 26.5 - 27.25 |
| 46 | 45.75 - 46.75 | 51.25 - 52.25 | 30.25 - 31 |
| 48 | 47.75 - 48.75 | 52.75 - 53.75 | 31 - 31.75 |
| 50 | 49.75 - 50.75 | 54.25 - 55.25 | 31.75 - 32.5 |
| 52 | 51.75 - 52.75 | 55.75 - 56.75 | 32.5 - 33.25 |
| 54 | 53.75 - 54.75 | 57.25 - 58.25 | 33.25 - 34 |
| 56 | 55.75 - 56.75 | 58.75 - 59.75 | 34 - 34.75 |
| 58 | 57.75 - 58.75 | 60.25 - 61.25 | 34.75 - 35.5 |
| 60 | 59.75 - 60.75 | 61.75 - 62.75 | 35.5 - 36.25 |
FIND YOUR DOCKER'S LENGTH
| LENGTH | INSEAM(in) |
| --- | --- |
| 28 | 25.5 - 27.5 |
| 29 | 26.5 - 28.25 |
| 30 | 27.5 - 29.5 |
| 32 | 29.5 - 31.25 |
| 34 | 31.25 - 33.25 |
| 36 | 33.25 - 35.25 |
| 38 | 35.25 - 37.25 |