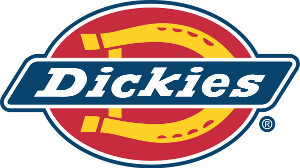 On this page you will find the Dickies size charts. Not sure what size will fit you best? Find perfect size for you with our Dickies size guides.
Williamson-Dickie Mfg. Co. is an apparel manufacturing company primarily known for its largest brand, Dickies.
The company was founded in Fort Worth, Texas, in 1922 by C. N. Williamson and E. E. "Colonel" Dickie, who began a denim bib overall company selling workwear to farm and ranch hands around the Southwest.
Today, Dickies is a global brand found in more than 100 countries designing, manufacturing and selling workwear to the automotive, hospitality, construction and medical industries.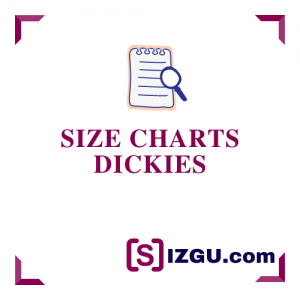 Women's Dickies Size Charts
Shirts
| Letter Size | Numeric Size | Bust (inch) | Bust (cm) |
| --- | --- | --- | --- |
| XS | 2 - 4 | 34½ | 87½ |
| S | 6 - 8 | 36½ | 92½ |
| M | 10 - 12 | 39 | 99 |
| L | 14 - 16 | 42 | 106½ |
| XL | 18 - 20 | 46 | 117 |
| 2XL | 22 - 24 | 50 | 127 |
Bottoms
Size
Waist
Hips
inch
cm
inch
cm
4
27½
70
37½
95½
6
28½
72½
38½
98
8
29½
75
39½
100½
10
30½
77½
40½
103
12
32
81½
42
106½
14
33½
85
43½
110½
16
35
89
45
114½
18
37
94
47
119½
20
39
99
50
127
22
41
104
53
134½
24
43
109
56
142
| Length | Inseam (inch) | Inseam (cm) |
| --- | --- | --- |
| Regular | 31½ | 80 |
Petite Bottoms
Size
Waist
Hips
inch
cm
inch
cm
4
27½
70
37½
95½
6
28½
72½
38½
98
8
29½
75
39½
100½
10
30½
77½
40½
103
12
32
81½
42
106½
14
33½
85
43½
110½
16
35
89
45
114½
18
37
94
47
119½
20
39
99
50
127
22
41
104
53
134½
24
43
109
56
142
| Length | Inseam (inch) | Inseam (cm) |
| --- | --- | --- |
| Regular | 28 | 71 |
Tall Bottoms
Size
Waist
Hips
inch
cm
inch
cm
4
27½
70
37½
95½
6
28½
72½
38½
98
8
29½
75
39½
100½
10
30½
77½
40½
103
12
32
81½
42
106½
14
33½
85
43½
110½
16
35
89
45
114½
18
37
94
47
119½
20
39
99
50
127
22
41
104
53
134½
24
43
109
56
142
| Length | Inseam (inch) | Inseam (cm) |
| --- | --- | --- |
| Regular | 34 | 86½ |
Men's Dickies Size Charts
Shirts
Size
Neck
Chest
inch
cm
inch
cm
S
14 - 14½
35½ - 37
34 - 36
86½ - 91½
M
15 - 15½
38 - 39½
38 - 40
96½ - 101½
L
16 - 16½
40½ - 42
42 - 44
106½ - 112
XL
17 - 17½
43 - 44½
46 - 48
117 - 122
2XL
18 - 18½
45½ - 47
50 - 52
127 - 132
3XL
19 - 19½
48½ - 49½
54 - 56
137 - 142
4XL
20 - 20½
51 - 52
58 - 60
147½ - 152½
5XL
21 - 21½
53½ - 54½
62 - 64
157½ - 162½
Work Pants
| Size | Waist (inch) | Waist (cm) |
| --- | --- | --- |
| 26 | 26 | 66 |
| 27 | 27 | 68½ |
| 28 | 28 | 71 |
| 29 | 29 | 73½ |
| 30 | 30 | 76 |
| 31 | 31 | 78½ |
| 32 | 32 | 81½ |
| 33 | 33 | 84 |
| 34 | 34 | 86½ |
| 35 | 35 | 89 |
| 36 | 36 | 91½ |
| 38 | 38 | 96½ |
| 40 | 40 | 101½ |
| 42 | 42 | 106½ |
| Length | Inseam (inch) | Inseam (cm) |
| --- | --- | --- |
| Inseam | 28 - 36 | 71 - 91½ |
| Unhemmed | 37 - 39 | 94 - 99 |
EMT Pant
| Size | Waist (inch) | Waist (cm) |
| --- | --- | --- |
| 28 | 28 | 71 |
| 29 | 29 | 73½ |
| 30 | 30 | 76 |
| 31 | 31 | 78½ |
| 32 | 32 | 81½ |
| 33 | 33 | 84 |
| 34 | 34 | 86½ |
| 35 | 35 | 89 |
| 36 | 36 | 91½ |
| 38 | 38 | 96½ |
| 40 | 40 | 101½ |
| 42 | 42 | 106½ |
| 44 | 44 | 112 |
| 46 | 46 | 117 |
| 48 | 48 | 122 |
| 50 | 50 | 127 |
| 52 | 52 | 132 |
| 54 | 54 | 137 |
| 56 | 56 | 142 |
| Length | Inseam (inch) | Inseam (cm) |
| --- | --- | --- |
| Unhemmed | 37 - 39 | 94 - 99 |
Jeans
| Size | Waist (inch) | Waist (cm) |
| --- | --- | --- |
| 28 | 28 | 71 |
| 30 | 30 | 76 |
| 31 | 31 | 78½ |
| 32 | 32 | 81½ |
| 33 | 33 | 84 |
| 34 | 34 | 86½ |
| 36 | 36 | 91½ |
| 38 | 38 | 96½ |
| 40 | 40 | 101½ |
| 42 | 42 | 106½ |
| 44 | 44 | 112 |
| Length | Inseam (inch) | Inseam (cm) |
| --- | --- | --- |
| Inseam | 30 - 36 | 76 - 91½ |
| Unhemmed | 39 | 99 |
---
Check also:
---
Jackets
Size
Neck
Chest
inch
cm
inch
cm
S
14 - 14½
35½ - 37
34 - 36
86½ - 91½
M
15 - 15½
38 - 39½
38 - 40
96½ - 101½
L
16 - 16½
40½ - 42
42 - 44
106½ - 112
XL
17 - 17½
43 - 44½
46 - 48
117 - 122
2XL
18 - 18½
45½ - 47
50 - 52
127 - 132
3XL
19 - 19½
48½ - 49½
54 - 56
137 - 142
4XL
20 - 20½
51 - 52
58 - 60
147½ - 152½
5XL
21 - 21½
53½ - 54½
62 - 64
157½ - 162½