On this page you will find size charts of Deichmann shoes. Women's, men's and children's shoe sizes. Shoe sizes Nike, Adidas, Puma and many more.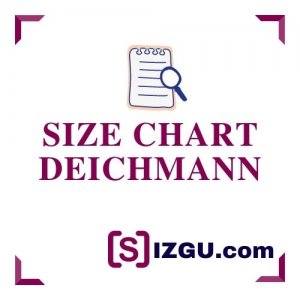 Deichmann SE (formerly Heinrich Deichmann-Schuhe GmbH & Co. KG) belongs to the large German footwear chains. Founded in 1913 by Heinrich Deichmann, the company has been based in Essen, North Rhine-Westphalia since its foundation. Deichmann is one of the largest shoe retailers in Europe market.
*All sizes and dimensions of shoes may slightly vary, depending on the size and cut of the shoe and the individual manufacturer.
Size chart Deichmann men's shoes
| | | | | | | | | | | | | | |
| --- | --- | --- | --- | --- | --- | --- | --- | --- | --- | --- | --- | --- | --- |
| EU | 39,5 | 40 | 41 | 41,5 | 42 | 42,5 | 43 | 44 | 44,5 | 45 | 46 | 47 | 48 |
| US | 7 | 7,5 | 8 | 8,5 | 9 | 9,5 | 10 | 10,5 | 11 | 11,5 | 12 | 13 | 14 |
| UK | 6 | 6,5 | 7 | 7,5 | 8 | 8,5 | 9 | 9,5 | 10 | 10,5 | 11 | 12 | 13 |
| cm | 25,3 | 25,7 | 26,3 | 26,6 | 27 | 27,3 | 27,6 | 28,3 | 28,6 | 29,2 | 29,6 | 30,2 | 20,9 |
Women's sizes Deichmann
| | | | | | | | | | | | |
| --- | --- | --- | --- | --- | --- | --- | --- | --- | --- | --- | --- |
| EU | 35,5 | 36 | 37 | 37,5 | 38 | 39 | 39,5 | 40 | 41 | 41,5 | 42 |
| US | 5 | 5,5 | 6 | 6,5 | 7 | 7,5 | 8 | 8,5 | 9 | 9,5 | 10 |
| UK | 3 | 3,5 | 4 | 4,5 | 5 | 5,5 | 6 | 6,5 | 7 | 7,5 | 8 |
| cm | 22,4 | 23,1 | 23,7 | 24 | 24,4 | 25,1 | 25,3 | 25,7 | 26,3 | 26,6 | 27 |
Size chart of Nike shoes in Deichmann stores
Nike men's sizes
| | | | | | | | | | | | |
| --- | --- | --- | --- | --- | --- | --- | --- | --- | --- | --- | --- |
| EU sizes | 38,5 | 39 | 40 | 40,5 | 41 | 42 | 42,5 | 43 | 44 | 44,5 | 45 |
| US sizes | 6 | 6,5 | 7 | 7,5 | 8 | 8,5 | 9 | 9,5 | 10 | 10,5 | 11 |
| | | | | | | | | | | |
| --- | --- | --- | --- | --- | --- | --- | --- | --- | --- | --- |
| EU sizes | 45,5 | 46 | 46,5 | 47,5 | 48 | 48,5 | 49 | 49,5 | 50 | 50,5 |
| US sizes | 11,5 | 12 | 12,5 | 13 | 13,5 | 14 | 15 | 16 | 17 | 18 |
Nike women's sizes
| | | | | | | | | |
| --- | --- | --- | --- | --- | --- | --- | --- | --- |
| EU sizes | 35,5 | 36 | 36,5 | 37,5 | 38 | 38,5 | 39 | 40 |
| US sizes | 5 | 5,5 | 6 | 6,5 | 7 | 7,5 | 8 | 8,5 |
| | | | | | | | |
| --- | --- | --- | --- | --- | --- | --- | --- |
| EU sizes | 40,5 | 41 | 42 | 42,5 | 43 | 44 | 44,5 |
| US sizes | 9 | 9,5 | 10 | 10,5 | 11 | 11,5 | 12 |
Size chart of Adidas shoes in Deichmann stores
| | | | | | | | | | | | | |
| --- | --- | --- | --- | --- | --- | --- | --- | --- | --- | --- | --- | --- |
| EU sizes | 36 | 36,5 | 37,5 | 38 | 38,5 | 39,5 | 40 | 40,5 | 41,5 | 42 | 42,5 | 43,5 |
| UK sizes | 3,5 | 4 | 4,5 | 5 | 5,5 | 6 | 6,5 | 7 | 7,5 | 8 | 8,5 | 9 |
| | | | | | | | | | | | | |
| --- | --- | --- | --- | --- | --- | --- | --- | --- | --- | --- | --- | --- |
| EU sizes | 44 | 44,5 | 45,5 | 46 | 46,5 | 47,5 | 48 | 48,5 | 49,5 | 50 | 50,5 | 51,5 |
| UK sizes | 9,5 | 10 | 10,5 | 11 | 11,5 | 12 | 12,5 | 13 | 13,5 | 14 | 14,5 | 15 |
Size chart of Puma shoes in Deichmann stores
| | | | | | | | | | | |
| --- | --- | --- | --- | --- | --- | --- | --- | --- | --- | --- |
| EU sizes | 36 | 37 | 37,5 | 38 | 38,5 | 39 | 40 | 40,5 | 41 | 42 |
| UK sizes | 3,5 | 4 | 4,5 | 5 | 5,5 | 6 | 6,5 | 7 | 7,5 | 8 |
| | | | | | | | | | | |
| --- | --- | --- | --- | --- | --- | --- | --- | --- | --- | --- |
| EU sizes | 42,5 | 43 | 44 | 44,5 | 45 | 46 | 46,5 | 47 | 47,5 | 48 |
| UK sizes | 8,5 | 9 | 9,5 | 10 | 10,5 | 11 | 11,5 | 12 | 12,5 | 13 |
Check also size charts of:
Children's size chart of shoes Deichmann
| | | | | | | | | | | |
| --- | --- | --- | --- | --- | --- | --- | --- | --- | --- | --- |
| EU sizes | 18 | 19 | 20 | 21 | 22 | 23 | 24 | 25 | 26 | 27 |
| Foot length in cm | 10,7 - 11,3 | 11,4 - 11,9 | 12 - 12,5 | 12,6 - 13,2 | 13,3 - 13,7 | 13,8 - 14,4 | 14,5 - 15 | 15,1 - 15,6 | 15,7 - 16,3 | 16,4 - 16,8 |
| | | | | | | | | | |
| --- | --- | --- | --- | --- | --- | --- | --- | --- | --- |
| EU sizes | 28 | 29 | 30 | 31 | 32 | 33 | 34 | 35 | 36 |
| Foot length in cm | 16,9 - 17,5 | 17,6 - 18,2 | 18,3 - 18,8 | 18,9 - 19,5 | 19,6 - 20,2 | 20,3 - 20,8 | 20,9 - 21,5 | 21,6 - 22,2 | 22,3 - 22,8 |