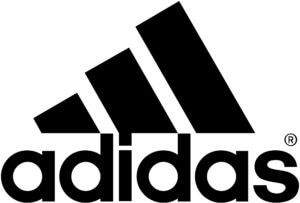 On this page you will find the Adidas size charts. Find perfect size for you with our adidas size guides.
Three stripes placed on the sleeves or pants are known to everyone around the world. One of the world's most famous sport-oriented fashion companies was founded at the beginning of the last century in Germany by brothers Adolf and Rudolf Dassler. In the 1940s was the cooperation between the brothers terminated and Rudolf established his own brand, with the name Puma.
The name Adidas originated after the nickname of the founder, "Adi", and the beginning of his surname, "Das".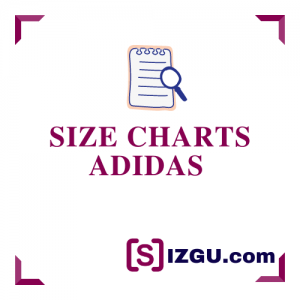 Women's sizes charts Adidas
Tops and Jackets – Alpha Sizes
Size
Bust
Waist
inch
cm
inch
cm
XS
31 - 33
78½ - 84
22½ - 25
57 - 63½
S
33½ - 35
85 - 89
25½ - 27½
65 - 70
M
35½ - 38
90 - 96½
28 - 30
71 - 76
L
38½ - 41
98 - 104
30½ - 33
77½ - 84
XL
41½ - 44
105½ - 112
33½ - 36
85 - 91½
Pants and Shorts – Numeric Sizes
Size
Waist
Hips
Inseam
inch
cm
inch
cm
inch
cm
0 - 2
22½
57
33
84
30
76
2
25
63½
35
89
30
76
4
25½
65
33½
85
30½
77½
6
27½
70
37½
95½
30½
77½
8
28
71
38
96½
31
78½
10
30
76
40½
103
31
78½
12
30½
77½
41
104
31½
80
14
33
84
43½
110½
31½
80
16
33½
85
44
112
32
81½
18
36
91½
46½
118
32
81½
Pants and Shorts – Alpha Sizes
Size
Waist
Hips
Inseam
inch
cm
inch
cm
inch
cm
XS
22½ - 25
57 - 63½
33 - 35
84 - 89
30
76
S
25½ - 27½
65 - 70
33½ - 37½
85 - 95½
30½
77½
M
28 - 30
71 - 76
38 - 40½
96½ - 103
31
78½
L
30½ - 33
77½ - 84
41 - 43½
104 - 110½
31½
80
XL
33½ - 36
85 - 91½
44 - 46½
112 - 118
32
81½
Outerwear Tops and Jackets – Numeric Sizes
Size
Bust
Waist
inch
cm
inch
cm
0
31
78½
22½
57
2
33
84
25
63½
4
33½
85
25½
65
6
27½
70
27½
70
8
28
71
28
71
10
30
76
30
76
12
30½
77½
30½
77½
14
33
84
33
84
16
33½
85
33½
85
18
36
91½
36
91½
Outerwear Tops and Jackets – Alpha Sizes
Size
Bust
Waist
inch
cm
inch
cm
XS
31 - 33
78½ - 84
22½ - 25
57 - 63½
S
33½ - 35
85 - 89
25½ - 27½
65 - 70
M
35½ - 38
90 - 96½
28 - 30
71 - 76
L
38½ - 41
98 - 104
30½ - 33
77½ - 84
XL
41½ - 44
105½ - 112
33½ - 36
85 - 91½
Men's sizes charts Adidas
T-Shirts
Size
Waist
Hips
inch
cm
inch
cm
XS
27 - 29
68½ - 73½
32 - 34
81½ - 86½
S
30 - 32
76 - 81½
35 - 37
89 - 94
M
32 - 35
81½ - 89
37 - 40
94 - 101½
L
35 - 39
89 - 99
40 - 44
101½ - 112
XL
39 - 43
99 - 109
44 - 48
112 - 122
2XL
43 - 47
109 - 119½
48 - 51
122 - 129½
3XL
48 - 53
122 - 134½
51 - 56
129½ - 142
Pants and Shorts
Size
Waist
Hips
inch
cm
inch
cm
XS
27 - 29
68½ - 73½
32 - 34
81½ - 86½
S
30 - 32
76 - 81½
35 - 37
89 - 94
M
32 - 35
81½ - 89
37 - 40
94 - 101½
L
35 - 39
89 - 99
40 - 44
101½ - 112
XL
39 - 43
99 - 109
44 - 48
112 - 122
2XL
43 - 47
109 - 119½
48 - 51
122 - 129½
3XL
48 - 53
122 - 134½
51 - 56
129½ - 142
---
Check also:
---
Jackets
| Size | Chest (inch) | Chest (cm) |
| --- | --- | --- |
| XS | 31 - 33 | 78½ - 84 |
| S | 34 - 37 | 86½ - 94 |
| M | 37 - 40 | 94 - 101½ |
| L | 40 - 44 | 101½ - 112 |
| XL | 44 - 48 | 112 - 122 |
| 2XL | 48 - 52 | 122 - 132 |
| 3XL | 53 - 58 | 134½ - 147½ |