7 for all mankind Size Charts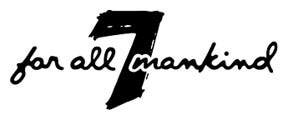 On this page you will find the 7 for all mankind size charts. This clothing brand began by designing women's jeans. A men's jeans line was introduced in fall 2002, and its Children Denim Collection for boys and girls in fall 2005.
7 for All Mankind also produces other clothing items such as skirts, shorts, and denim jackets. You can find the brand in over 80 countries including Europe, Canada, and Japan.
Women's sizes charts 7 for all mankind
Shirts and Sweaters
Size
Bust
Waist
Hips
inch
cm
inch
cm
inch
cm
XS
81½ - 84
32 - 33
63½ - 66
25 - 26
89 - 91½
35 - 36
S
84 - 86½
33 - 34
66 - 68½
26 - 27
91½ - 94
36 - 37
M
86½ - 89
34 - 35
68½ - 71
27 - 28
94 - 96½
37 - 38
L
89 - 91½
35 - 36
71 - 73½
28 - 29
96½ - 99
38 - 39
Jeans
| Size | Waist (inch) | Waist (cm) | Hips (inch) | Hips (cm) |
| --- | --- | --- | --- | --- |
| 23 | 22¼ | 56½ | 33½ | 85 |
| 24 | 23¼ | 59 | 34¼ | 87 |
| 25 | 24¼ | 61½ | 35¼ | 89½ |
| 26 | 25¼ | 64 | 36¼ | 92 |
| 27 | 26¼ | 66½ | 37¼ | 94½ |
| 28 | 27¼ | 69 | 38¼ | 97 |
| 29 | 28¼ | 72 | 39¼ | 99½ |
| 30 | 29¼ | 74½ | 40¼ | 102 |
| 31 | 30¼ | 77 | 41¼ | 105 |
| 32 | 31¼ | 79½ | 42¼ | 107½ |
Jackets
Size
Bust
Waist
Hips
inch
cm
inch
cm
inch
cm
XS
32 - 33
81½ - 84
25 - 26
63½ - 66
35 - 36
89 - 91½
S
33 - 34
84 - 86½
26 - 27
66 - 68½
36 - 37
91½ - 94
M
34 - 35
86½ - 89
27 - 28
68½ - 71
37 - 38
94 - 96½
L
35 - 36
89 - 91½
28 - 29
71 - 73½
38 - 39
96½ - 99
Men's sizes charts 7 for all mankind
Shirts
Size
Neck
Chest
Waist
inch
cm
inch
cm
inch
cm
XS
14¾
37½
36
91½
28 - 29
71 - 73½
S
15¼
38½
37 - 38
94 - 96½
30 - 31
76 - 78½
M
16
40½
39 - 40
99 - 101½
32 - 33
81½ - 84
L
16½
42
41 - 42
104 - 106½
34 - 35
86½ - 89
XL
17½
44½
43 - 44
109 - 112
36 - 37
91½ - 94
XXL
18
45½
46
117
38 - 39
96½ - 99
Pants and Jeans
Size
Waist
Hips
inch
cm
inch
cm
28
72½
72½
86½
86½
29
75
75
89
89
30
77½
77½
91½
91½
31
80
80
94
94
32
82½
82½
96½
96½
33
85
85
99
99
34
87½
87½
101½
101½
36
90
90
104
104
38
92½
92½
106½
106½
40
95½
95½
109
109
---
Check also:
---
Jackets
Size
Neck
Chest
Waist
inch
cm
inch
cm
inch
cm
XS
14¾
37½
36
91½
28 - 29
71 - 73½
S
15¼
38½
37 - 38
94 - 96½
30 - 31
76 - 78½
M
16
40½
39 - 40
99 - 101½
32 - 33
81½ - 84
L
16½
42
41 - 42
104 - 106½
34 - 35
86½ - 89
XL
17½
44½
43 - 44
109 - 112
36 - 37
91½ - 94
XXL
18
45½
46
117
38 - 39
96½ - 99