On this page you will find the UGG size charts. Not sure what size will fit you best? Find perfect size for you with our UGG size guides.
UGG is a clothing company known all over the world that can supply women, men, and children with all kinds of fantastic shirts, tops, trousers and shoes that will be in line with the currently applicable size guide.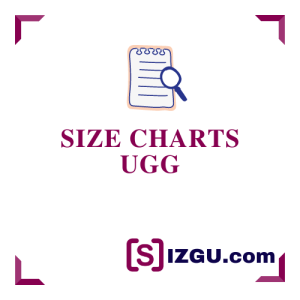 UGG is a registered trademark in the United States and over 130 other countries for footwear, as well as bags, clothing, outerwear, home goods and other products.
The UGG brand is best known for its "Classic" boots, sheepskin boots for both men and women in the style of Australian ugg boots.
Women's Apparel size chart
| | | | | | |
| --- | --- | --- | --- | --- | --- |
| | XS | S | M | L | XL |
| Size | 0-2 | 4-6 | 8-10 | 12-14 | 16-18 |
| Bust | 33-34" | 35-36" | 37-38" | 39-40" | 42-43" |
| Waist | 25-26" | 27-28" | 29-30" | 31-32" | 34-35" |
| Hip | 35-36" | 37-38" | 39-40" | 41-42" | 44-45" |
| Sleeve | 29 | 1/2" | 30" | 31 1/2" | 32" |
| Inseam | 29 | 1/2" | 30" | 31 1/2" | 32" |
Women's UGG Outerwear sizes
| XS | S | M | L | XL |
| --- | --- | --- | --- | --- |
| 0-2 | 4-6 | 8-10 | 12-14 | 16-18 |
Women's Shoes size chart
| | | | | | | | | | | | | | | | | |
| --- | --- | --- | --- | --- | --- | --- | --- | --- | --- | --- | --- | --- | --- | --- | --- | --- |
| Heel-Toe Measurement (IN) | 8.66 | 8.86 | 9.06 | 9.25 | 9.45 | 9.65 | 9.84 | 10.04 | 10.24 | 10.43 | 10.63 | 10.83 | 11.02 | 11.42 | 11.81 | 12.20 |
| US | 5 | 5.5 | 6 | 6.5 | 7 | 7.5 | 8 | 8.5 | 9 | 9.5 | 10 | 10.5 | 11 | 12 | 13 | 14 |
| UK | 3 | 3.5 | 4 | 4.5 | 5 | 5.5 | 6 | 6.5 | 7 | 7.5 | 8 | 8.5 | 9 | 10 | 11 | 12 |
| Europe | 36 | 36.5 | 37 | 37.5 | 38 | 38.5 | 39 | 39.5 | 40 | 40.5 | 41 | 41.5 | 42 | 43 | 44 | 45 |
| Japan (CM) | 22 | 22.5 | 23 | 23.5 | 24 | 24.5 | 25 | 25.5 | 26 | 26.5 | 27 | 27.5 | 28 | 29 | 30 | 31 |
| China (MM) | 220 | 225 | 230 | 235 | 240 | 245 | 250 | 255 | 260 | 265 | 270 | 275 | 280 | 290 | 300 | 310 |
| Mexico (CM) | 22 | 22.5 | 23 | 23.5 | 24 | 24.5 | 25 | 25.5 | 26 | 26.5 | 27 | 27.5 | 28 | 29 | 30 | 31 |
Gloves
| S | M | L | S/M | L/XL |
| --- | --- | --- | --- | --- |
| 6" - 6.5" | 6.75" - 7.25" | 7.5" - 8" | 6" - 7" | 7" - 8" |
Men's Apparel size chart
| | | | | | | | |
| --- | --- | --- | --- | --- | --- | --- | --- |
| | S | M | M/L | L | L/XL | XL | XXL |
| Chest | 39-40" | 41-42" | 41-44" | 43-44" | 44-46" | 45-46" | 48-49" |
| Waist | 31-32" | 33-34" | 32.5-34" | 35-36" | 36-38" | 37-38" | 40-41" |
| Sleeve | 32.5" | 33.5" | 33-34" | 34" | 34-35" | 35" | 35.5" |
| Inseam | 31.5" | 32" | | 33" | | 33.5" | 34" |
Men's Outerwear
Men's UGG Shoes size chart
| | | | | | | | | | | | | | | | | | | | | |
| --- | --- | --- | --- | --- | --- | --- | --- | --- | --- | --- | --- | --- | --- | --- | --- | --- | --- | --- | --- | --- |
| Heel-Toe Measurement (IN) | 9.06 | 9.45 | 9.65 | 9.84 | 10.04 | 10.24 | 10.43 | 10.63 | 10.83 | 11.02 | 11.22 | 11.42 | 11.61 | 11.81 | 12.20 | 12.60 | 12.99 | 13.39 | 13.78 | 14.17 |
| US | 5 | 6 | 6.5 | 7 | 7.5 | 8 | 8.5 | 9 | 9.5 | 10 | 10.5 | 11 | 11.5 | 12 | 13 | 14 | 15 | 16 | 17 | 18 |
| UK | 4 | 5 | 5.5 | 6 | 6.5 | 7 | 7.5 | 8 | 8.5 | 9 | 9.5 | 10 | 10.5 | 11 | 12 | 13 | 14 | 15 | 16 | 17 |
| Europe | 38 | 39 | 39.5 | 40 | 40.5 | 41 | 41.5 | 42 | 42.5 | 43 | 43.5 | 44 | 44.5 | 45 | 46 | 48.5 | 49.5 | 50.5 | 51 | 52 |
| Japan (CM) | 23 | 24 | 24.5 | 25 | 25.5 | 26 | 26.5 | 27 | 27.5 | 28 | 28.5 | 29 | 29.5 | 30 | 31 | 32 | 33 | 34 | 35 | 36 |
| Mexico (CM) | 23 | 24 | 24.5 | 25 | 25.5 | 26 | 26.5 | 27 | 27.5 | 28 | 28.5 | 29 | 29.5 | 30 | 31 | 32 | 33 | 34 | 35 | 36 |
| China( MM) | 230 | 240 | 245 | 250 | 255 | 260 | 265 | 270 | 275 | 280 | 285 | 290 | 295 | 300 | 310 | 320 | 330 | 340 | 350 | 360 |
Men's Shoes wide sizes
| | | | | | | | | | | | | | | |
| --- | --- | --- | --- | --- | --- | --- | --- | --- | --- | --- | --- | --- | --- | --- |
| Heel-Toe Measurement (IN) | 9.94 | 10.04 | 10.24 | 10.43 | 10.63 | 10.83 | 11.02 | 11.22 | 11.42 | 11.61 | 11.81 | 12.01 | 12.20 | 12.60 |
| US | 7EEE | 7.5EEE | 8EEE | 8.5EEE | 9EEE | 9.5EEE | 10EEE | 10.5EEE | 11EEE | 11.5EEE | 12EEE | 12.5EEE | 13EEE | 14EEE |
| UK | 6 | 6.5 | 7 | 7.5 | 8 | 8.5 | 9 | 9.5 | 10 | 10.5 | 11 | 11.5 | 12 | 13 |
| Europe | 40 | 40.5 | 41 | 41.5 | 42 | 42.5 | 43 | 43.5 | 44 | 44.5 | 45 | 45.5 | 46 | 48.5 |
| Japan (cm) | 25 | 25.5 | 26 | 26.5 | 27 | 27.5 | 28 | 28.5 | 29 | 29.5 | 30 | 30.5 | 31 | 32 |
| Mexico (cm) | 25 | 25.5 | 26 | 26.5 | 27 | 27.5 | 28 | 28.5 | 29 | 29.5 | 30 | 30.5 | 31 | 32 |
| China (mm) | 250 | 255 | 260 | 265 | 270 | 275 | 280 | 285 | 290 | 295 | 300 | 305 | 310 | 320 |
Gloves
| M | L | XL | S/M | L/XL |
| --- | --- | --- | --- | --- |
| 8" - 8.5" | 8.75" - 9.5" | 9.75" - 10.5" | 8" - 9" | 9" - 10" |
Kids' Shoes size chart
Big Kids
| | | | | | | | | | | |
| --- | --- | --- | --- | --- | --- | --- | --- | --- | --- | --- |
| Heel-Toe Measurement (IN) | 6.69 | 6.89 | 7.28 | 7.68 | 7.87 | 8.27 | 8.66 | 8.86 | 9.25 | 9.65 |
| US | 10 | 11 | 12 | 13 | 1 | 2 | 3 | 4 | 5 | 6 |
| UK | 9 | 10 | 11 | 12 | 13 | 1 | 2 | 3 | 4 | 5 |
| Europe | 27.5 | 28.5 | 30 | 31 | 32.5 | 33.5 | 35 | 36 | 37 | 38 |
| Japan (cm) | 17 | 17.5 | 18.5 | 19.5 | 20 | 21 | 22 | 22.5 | 23.5 | 24.5 |
| Mexico (cm) | 17 | 18 | 19 | 20 | 21 | 22 | 23 | 24 | 25 | 26 |
| China (mm) | 170 | 175 | 185 | 195 | 200 | 210 | 220 | 225 | 235 | 245 |
| Foot Length (mm) | 170 | 178 | 187 | 195 | 204 | 212 | 221 | 229 | 238 | 246 |
Toddler
| | | | | | | | | | |
| --- | --- | --- | --- | --- | --- | --- | --- | --- | --- |
| Heel-Toe Measurement (IN) | 4.53 | 4.92 | 5.31 | 5.71 | 5.91 | 6.30 | 6.69 | 6.89 | 7.28 |
| US | 4 | 5 | 6 | 7 | 8 | 9 | 10 | 11 | 12 |
| UK | 3.5 | 4.5 | 5 | 6 | 7 | 8 | 9 | 10 | 11 |
| Europe | 19.5 | 21 | 22 | 23.5 | 25 | 26 | 27.5 | 28.5 | 30 |
| Japan (cm) | 11.5 | 12.5 | 13.5 | 14.5 | 15 | 16 | 17 | 17.5 | 18.5 |
| Mexico (cm) | 11.5 | 12.5 | 13 | 14 | 15 | 16 | 17 | 18 | 19 |
| China (mm) | 115 | 125 | 135 | 145 | 150 | 160 | 170 | 175 | 185 |
| Foot Length (mm) | 119 | 128 | 136 | 145 | 153 | 162 | 170 | 178 | 187 |
Baby
| | | | | | | | |
| --- | --- | --- | --- | --- | --- | --- | --- |
| Heel-Toe Measurement (IN) | 3.15 | 3.54 | 3.94 | 4.33 | 4.53 | 4.92 | 5.31 |
| US | 0 | 1 | 2 | 3 | 4 | 5 | 6 |
| UK | | 0 | 1 | 2.5 | 3.5 | 4.5 | 5 |
| Europe | 15 | 15 | 17 | 18.5 | 19.5 | 21 | 22 |
| Japan (cm) | 8 | 9 | 10 | 11 | 11.5 | 12.5 | 13.5 |
| Mexico (cm) | 8 | 8.5 | 9.5 | 10.5 | 11.5 | 12.5 | 13 |
| China (mm) | 80 | 90 | 100 | 110 | 115 | 125 | 135 |
| Foot Length (mm) | 85 | 94 | 102 | 111 | 119 | 128 | 136 |
---
Check also:
---
All-Gender Shoes – Sneakers sizes
| | | | | | | | | | | | | | | | | | | | | |
| --- | --- | --- | --- | --- | --- | --- | --- | --- | --- | --- | --- | --- | --- | --- | --- | --- | --- | --- | --- | --- |
| Heel-Toe Measurement (IN) | 8.66 | 8.86 | 9.06 | 9.25 | 9.45 | 9.65 | 9.84 | 10.04 | 10.24 | 10.43 | 10.63 | 10.83 | 11.02 | 11.22 | 11.42 | 11.81 | 12.20 | 12.60 | 12.99 | 13.39 |
| US Women's | 5 | 5.5 | 6 | 6.5 | 7 | 7.5 | 8 | 8.5 | 9 | 9.5 | 10 | 10.5 | 11 | 11.5 | 12 | 13 | 14 | 15 | 16 | 17 |
| US Men's | 4 | 4.5 | 5 | 5.5 | 6 | 6.5 | 7 | 7.5 | 8 | 8.5 | 9 | 9.5 | 10 | 10.5 | 11 | 12 | 13 | 14 | 15 | 16 |
| UK | 3.5 | 4 | 4.5 | 5 | 5.5 | 6 | 6.5 | 7 | 7.5 | 8 | 8.5 | 9 | 9.5 | 10 | 10.5 | 11.5 | 12.5 | 13.5 | 14.5 | 15.5 |
| Europe | 36 | 36 2/3 | 37 1/3 | 38 | 38 2/3 | 39 1/3 | 40 | 40 2/3 | 41 1/3 | 42 | 42 2/3 | 43 1/3 | 44 | 44 2/3 | 45 1/3 | 46 2/3 | 48 | 49 1/3 | 50 2/3 | 52 |
| Japan (cm) | 22 | 22.5 | 23 | 23.5 | 24 | 24.5 | 25 | 25.5 | 26 | 26.5 | 27 | 27.5 | 28 | 28.5 | 29 | 30 | 31 | 32 | 33 | 35 |
| Mexico (cm) | 22 | 22.5 | 23 | 23.5 | 24 | 24.5 | 25 | 25.5 | 26 | 26.5 | 27 | 27.5 | 28 | 28.5 | 29 | 30 | 31 | 32 | 33 | 35 |
| China (mm) | 220 | 225 | 230 | 235 | 240 | 245 | 250 | 255 | 260 | 265 | 270 | 275 | 280 | 285 | 290 | 300 | 310 | 320 | 330 | 350 |
All-Gender Shoes – Non-Sneakers
| | | | | | | | | | | | | | | | | | | | | | |
| --- | --- | --- | --- | --- | --- | --- | --- | --- | --- | --- | --- | --- | --- | --- | --- | --- | --- | --- | --- | --- | --- |
| Heel-Toe Measurement (IN) | 8.66 | 8.86 | 9.06 | 9.25 | 9.45 | 9.65 | 9.84 | 10.04 | 10.24 | 10.43 | 10.63 | 10.83 | 11.02 | 11.22 | 11.42 | 11.81 | 12.20 | 12.60 | 12.99 | 13.39 | 13.78 |
| US Women's | 5 | 5.5 | 6 | 6.5 | 7 | 7.5 | 8 | 8.5 | 9 | 9.5 | 10 | 10.5 | 11 | 11.5 | 12 | 13 | 14 | 15 | 16 | 17 | 18 |
| US Men's | 3 | 3.5 | 4 | 4.5 | 5 | 5.5 | 6 | 6.5 | 7 | 7.5 | 8 | 8.5 | 9 | 9.5 | 10 | 11 | 12 | 13 | 14 | 15 | 16 |
| UK Women's | 3 | 3.5 | 4 | 4.5 | 5 | 5.5 | 6 | 6.5 | 7 | 7.5 | 8 | 8.5 | 9 | 9.5 | 10 | 11 | 12 | 13 | 14 | 15 | 16 |
| UK Men's | 2 | 2.5 | 3 | 3.5 | 4 | 4.5 | 5 | 5.5 | 6 | 6.5 | 7 | 7.5 | 8 | 8.5 | 9 | 10 | 11 | 12 | 13 | 14 | 15 |
| Europe | 36 | 36.5 | 37 | 37.5 | 38 | 38.5 | 39 | 39.5 | 40 | 40.5 | 41 | 41.5 | 42 | 42.5 | 43 | 44 | 45 | 46 | 48.5 | 49.5 | 50.5 |
| Japan (cm) | 21 | 21.5 | 22 | 22.5 | 23 | 23.5 | 24 | 24.5 | 25 | 25.5 | 26 | 26.5 | 27 | 27.5 | 28 | 29 | 30 | 31 | 32 | 33 | 34 |
| Mexico (cm) | 21 | 21.5 | 22 | 22.5 | 23 | 23.5 | 24 | 24.5 | 25 | 25.5 | 26 | 26.5 | 27 | 27.5 | 28 | 29 | 30 | 31 | 32 | 33 | 34 |
| China (mm) | 210 | 215 | 220 | 225 | 230 | 235 | 240 | 245 | 250 | 255 | 260 | 265 | 270 | 275 | 280 | 29 | 300 | 310 | 320 | 330 | 340 |