Jessica Simpson Size Charts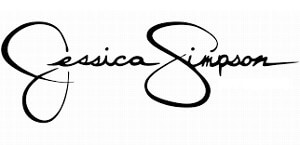 On this page you will find the Jessica Simpson size charts. Not sure what size will fit you best? Find perfect size for you with our Jessica Simpson size guides.
The Jessica Simpson Collection is a fashion line of clothing and other items for women and juniors. Besides clothing, the brand also includes handbags, sunglasses, accessories, jewellery, shoes and fragrances.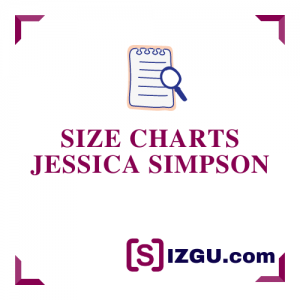 The brand initially launched in 2005 as a shoe collaboration with Nine West co-founder Vince Camuto. Due to the success that followed, Simpson began adding on, which resulted in the brand's current 22 different licenses.
Tops Jessica Simpson – Alpha Sizes
Size
Bust
Waist
Hips
inch
cm
inch
cm
inch
cm
XS
34½ - 35
87½ - 89
30½ - 31
77½ - 78½
40
101½
S
36½ - 37
92½ - 94
32½ - 33
82½ - 84
42
106½
M
38½ - 39
98 - 99
34½ - 35
87½ - 89
44
112
L
41 - 41½
104 - 105½
37½ - 38
95½ - 96½
47
119½
XL
44 - 44½
112 - 113
40½ - 41
103 - 104
50
127
Tops – Numeric Sizes
| Size | Bust | Bust | Waist | Waist | Hips | Hips |
| --- | --- | --- | --- | --- | --- | --- |
| | inch | cm | inch | cm | inch | cm |
| 2 | 34½ - 35 | 87½ - 89 | 30½ - 31 | 77½ - 78½ | 40 | 101½ |
| 4 | 36½ | 92½ | 32½ | 82½ | 42 | 106½ |
| 6 | 37 | 94 | 33 | 84 | 42 | 106½ |
| 8 | 38½ | 98 | 34½ | 87½ | 44 | 112 |
| 10 | 39 | 99 | 35 | 89 | 44 | 112 |
| 12 | 41 | 104 | 37½ | 95½ | 47 | 119½ |
| 14 | 41½ | 105½ | 38 | 96½ | 47 | 119½ |
| 16 | 44 - 44½ | 112 - 113 | 40½ - 41 | 103 - 104 | 50 | 127 |
Petite Tops
Letter Size
Numeric Size
Bust
Waist
Hips
XS
2
35½
31½
80
41
104
S
4 - 6
37½
33½
85
43
109
M
8 - 10
39½
35½
90
45
114½
L
12 - 14
42½
38½
98
48
122
L
12 - 14
42½
38½
98
48
122
Plus Tops
Letter Size
Numeric Size
Bust
Waist
Hips
inch
cm
inch
cm
inch
cm
1X
14 - 16
49½
125½
46½
118
55½
141
2X
18 - 20
52½
133½
49½
125½
58½
148½
3X
22 - 24
56½
143½
53½
136
62½
159
Bottoms Jessica Simpson – Alpha Sizes
Size
Waist
Hips
inch
cm
inch
cm
XS
30½ - 31
77½ - 78½
40
101½
S
32½ - 33
82½ - 84
42
106½
M
34½ - 35
87½ - 89
44
112
L
37½ - 38
95½ - 96½
47
119½
XL
40½ - 41
103 - 104
50
127
Bottoms – Numeric Sizes
Size
Waist
Hips
inch
cm
inch
cm
2
30½ - 31
77½ - 78½
40
101½
4
32½
82½
42
106½
6
33
84
42
106½
8
34½
87½
44
112
10
35
89
44
112
12
37½
95½
47
119½
14
38
96½
47
119½
16
40½ - 41
103 - 104
50
127
Petite Bottoms
Letter Size
Numeric Size
Bust
Waist
Hips
inch
cm
inch
cm
inch
cm
XS
2
35½
90
31½
80
41
104
S
4 - 6
37½
95½
33½
85
43
109
M
8 - 10
39½
100½
35½
90
45
114½
L
12 - 14
42½
108
38½
98
48
122
Plus Bottoms
Letter Size
Numeric Size
Bust
Waist
Hips
inch
cm
inch
cm
inch
cm
1X
14 - 16
49½
125½
46½
118
55½
141
2X
18 - 20
52½
133½
49½
125½
58½
148½
3X
22 - 24
56½
143½
53½
136
62½
159
Jeans Jessica Simpson size chart
| Size | Waist (inch) | Waist (cm) |
| --- | --- | --- |
| 24 | 24 | 61 |
| 25 | 25 | 63½ |
| 26 | 26 | 66 |
| 27 | 27 | 68½ |
| 28 | 28 | 71 |
| 29 | 29 | 73½ |
| 30 | 30 | 76 |
| 31 | 31 | 78½ |
| 32 | 32 | 81½ |
Dresses Jessica Simpson – Alpha Sizes
Size
Bust
Waist
Hips
inch
cm
inch
cm
inch
cm
XS
34½ - 35
87½ - 89
30½ - 31
77½ - 78½
40
101½
S
36½ - 37
92½ - 94
32½ - 33
82½ - 84
42
106½
M
38½ - 39
98 - 99
34½ - 35
87½ - 89
44
112
L
41 - 41½
104 - 105½
37½ - 38
95½ - 96½
47
119½
XL
44 - 44½
112 - 113
40½ - 41
103 - 104
50
127
Dresses – Numeric Sizes
Size
Bust
Waist
Hips
inch
cm
inch
cm
inch
cm
2
34½ - 35
87½ - 89
30½ - 31
77½ - 78½
40
101½
4
36½
92½
32½
82½
42
106½
6
37
94
33
84
42
106½
8
38½
98
34½
87½
44
112
10
39
99
35
89
44
112
12
41
104
37½
95½
47
119½
14
41½
105½
38
96½
47
119½
16
44 - 44½
112 - 113
40½ - 41
103 - 104
50
127
Petite Dresses
Letter Size
Numeric Size
Bust
Waist
Hips
inch
cm
inch
cm
inch
cm
XS
2
35½
90
31½
80
41
104
S
4 - 6
37½
95½
33½
85
43
109
M
8 - 10
39½
100½
35½
90
45
114½
L
12 - 14
42½
108
38½
98
48
122
---
Check also:
---
Plus Dresses
Letter Size
Numeric Size
Bust
Waist
Hips
inch
cm
inch
cm
inch
cm
1X
14 - 16
49½
125½
46½
118
55½
141
2X
18 - 20
52½
133½
49½
125½
58½
148½
3X
22 - 24
56½
143½
53½
136
62½
159
Jackets Jessica Simpson – Alpha Sizes
Size
Bust
Waist
Hips
inch
cm
inch
cm
inch
cm
XS
34½ - 35
87½ - 89
30½ - 31
77½ - 78½
40
101½
S
36½ - 37
92½ - 94
32½ - 33
82½ - 84
42
106½
M
38½ - 39
98 - 99
34½ - 35
87½ - 89
44
112
L
41 - 41½
104 - 105½
37½ - 38
95½ - 96½
47
119½
XL
44 - 44½
112 - 113
40½ - 41
103 - 104
50
127
Jackets – Numeric Sizes
Size
Bust
Waist
Hips
inch
cm
inch
cm
inch
cm
2
34½ - 35
87½ - 89
30½ - 31
77½ - 78½
40
101½
4
36½
92½
32½
82½
42
106½
6
37
94
33
84
42
106½
8
38½
98
34½
87½
44
112
10
39
99
35
89
44
112
12
41
104
37½
95½
47
119½
14
41½
105½
38
96½
47
119½
16
44 - 44½
112 - 113
40½ - 41
103 - 104
50
127
Plus Jackets
Letter Size
Numeric Size
Bust
Waist
Hips
inch
cm
inch
cm
inch
cm
1X
14 - 16
49½
125½
46½
118
55½
141
2X
18 - 20
52½
133½
49½
125½
58½
148½
3X
22 - 24
56½
143½
53½
136
62½
159
Petite Jackets
Letter Size
Numeric Size
Bust
Waist
Hips
inch
cm
inch
cm
inch
cm
XS
2
35½
90
31½
80
41
104
S
4 - 6
37½
95½
33½
85
43
109
M
8 - 10
39½
100½
35½
90
45
114½
L
12 - 14
42½
108
38½
98
48
122
Swimwear Jessica Simpson size chart
Size
Bust
Waist
Hips
XS
2
33
25
35
XS
4
34
26
36
S
6
35
27
37
S
8
36
28
38
M
10
37
29
39
M
12
38
30
40
L
14
39
31
41
L
16
40
32
42
XL
18
41
33
43
XL
20
42
34
44
Shoes Jessica Simpson
| Size (US) | Length (inch) |
| --- | --- |
| 4 | 8.3 |
| 4.5 | 8.5 |
| 5 | 8.6 |
| 5.5 | 8.8 |
| 6 | 9 |
| 6.5 | 9.1 |
| 7 | 9.3 |
| 7.5 | 9.5 |
| 8 | 9.6 |
| 8.5 | 9.8 |
| 9 | 10 |
| 9.5 | 10.1 |
| 10 | 10.3 |
| 10.5 | 10.5 |
| 11 | 10.6 |
| 11.5 | 10.8 |
| 12 | 11 |
| 13 | 11.4 |