On this page you will find a size charts of clothes of brand Colmar. This is Italian popular premium sportswear brand, which is on the market already for 90 years. Colmar is known that well that they combine trendy fashion design in its sports models, while bringing innovative materials enriched with the latest technical advances.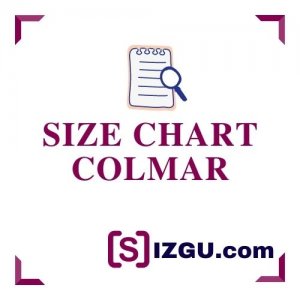 Mens sizes Colmar Active
All values in the size charts are in centimeters.
Jackets
Size
Chest circumference
Waist circumference
Hips circumference
Sleeve length
46
S
90-93
79-82
96-98
62
48
M
94-97
83-86
99-101
63
50
98-101
87-90
102-104
64
52
L
102-105
91-94
105-107
65
54
106-109
95-99
108-110
66
56
XL
110-113
100-103
111-113
67
58
114-117
104-107
114-116
68
60
2XL
118-121
108-112
117-119
69
62
122-125
113-118
120-122
70
64
3XL
126-128
119-122
123-125
71
66
128-130
123-128
126-128
72
68
4XL
130-132
129-132
129-131
73
Size conversion chart
| | | | | | | | | | |
| --- | --- | --- | --- | --- | --- | --- | --- | --- | --- |
| INT. size | XS | S | M | M | L | L/XL | XL | XL/XXL | XXL |
| EU sizes | 44 | 46 | 48 | 50 | 52 | 54 | 56 | 58 | 60 |
| FR sizes | 42 | 44 | 46 | 48 | 50 | 52 | 54 | 56 | 58 |
| ES sizes | 42 | 44 | 46 | 48 | 50 | 52 | 54 | 56 | 58 |
| IT sizes | 44 | 46 | 48 | 50 | 52 | 54 | 56 | 58 | 60 |
| US sizes | 34 | 36 | 38 | 40 | 42 | 44 | 46 | 48 | 50 |
Outdoor pants
| | | | | | | | | |
| --- | --- | --- | --- | --- | --- | --- | --- | --- |
| INT. size | S | M | M | L | L | XL | XL - XXL | XXL |
| Waist (in cm) | 76 - 80 cm | 80 - 84 cm | 84 - 88 cm | 88 - 92 cm | 92 - 96 cm | 96 - 100 cm | 100 - 104 cm | 104 - 108 cm |
| Hips (in cm) | 92 - 96 cm | 96 - 100 cm | 100 - 104 cm | 104 - 108 cm | 108 - 112 cm | 112 - 116 cm | 116 - 120 cm | 120 - 124 cm |
| Trouser length (in cm) | 75 - 77 cm | 77 - 79 cm | 79 - 81 cm | 81 - 83 cm | 83 - 84 cm | 84 - 85 cm | 84 - 85 cm | 84 - 85 cm |
| EU sizes | 46 | 48 | 50 | 52 | 54 | 56 | 58 | 60 |
| FR sizes | 40 | 42 | 44 | 46 | 48 | 50 | 52 | 54 |
| ES sizes | 40 | 42 | 44 | 46 | 48 | 50 | 52 | 54 |
| IT sizes | 46 | 48 | 50 | 52 | 54 | 56 | 58 | 60 |
| US sizes | 30 | 32 | 34 | 36 | 38 | 40 | 42 | 44 |
Gloves
| | | | | | |
| --- | --- | --- | --- | --- | --- |
| Size | XS/7,5 | S/8 | M/8,5 | L/9 | XL/9,5 |
| Palm circumference (in cm) | 19,5 | 21 | 22,5 | 23,5 | 24,5 |
Ladies sizes Colmar Active
Jackets
Size
Chest circumference
Waist circumference
Hips circumference
Sleeve length
34
XXS
78-81
61-64
86-89
56
36
XXS/XS
83-86
67-70
93-95
59
38
XS
87-90
71-74
96-98
60
40
S
91-94
75-78
99-101
60
42
S/M
95-98
79-82
102-103
61
44
M/L
99-103
83-86
104-105
61
46
L/XL
104-108
87-90
106-107
62
48
XL
109-113
91-94
108-109
62
Size conversion chart
| | | | | | | | |
| --- | --- | --- | --- | --- | --- | --- | --- |
| INT. size | XXS | XS | S | M | L | XL | XXL |
| EU sizes | 32 | 34 | 36 | 38 | 40 | 42 | 44 |
| FR sizes | 34 | 36 | 38 | 40 | 42 | 44 | 46 |
| ES sizes | 34 | 36 | 38 | 40 | 42 | 44 | 46 |
| IT sizes | 38 | 40 | 42 | 44 | 46 | 48 | 50 |
| US sizes | 2 | 4 | 6 | 8 | 10 | 12 | 14 |
Outdoor pants
| | | | | | | | |
| --- | --- | --- | --- | --- | --- | --- | --- |
| INT. size | XS | S | S - M | M | L | L - XL | XL |
| EU sizes | 32 | 34 | 36 | 38 | 40 | 42 | 44 |
| FR sizes | 34 | 36 | 38 | 40 | 42 | 44 | 46 |
| ES sizes | 34 | 36 | 38 | 40 | 42 | 44 | 46 |
| IT sizes | 38 | 40 | 42 | 44 | 46 | 48 | 50 |
| US sizes | 2 | 4 | 6 | 8 | 10 | 12 | 14 |
| Waist (in cm) | 58 - 62 cm | 62 - 66 cm | 66 - 70 cm | 70 - 74 cm | 74 - 78 cm | 78 - 82 cm | 82 - 86 cm |
| Hips (in cm) | 84 - 88 cm | 88 - 92 cm | 92 - 96 cm | 96 - 100 cm | 100 - 104 cm | 104 - 108 cm | 108 - 112 cm |
| Trouser length (in cm) - regular | 72 - 73 cm | 73 - 74 cm | 74 - 75 cm | 75 - 76 cm | 76 - 77 cm | 77 - 78 cm | 78 - 79 cm |
Check also size charts of this brands:
Gloves
| | | | | | |
| --- | --- | --- | --- | --- | --- |
| Size | XS/5,5 | S/6 | M/6,5 | L/7 | XL/7,5 |
| Palm circumference (in cm) | 16 | 17 | 18 | 19 | 20,5 |