On this page you will find the Express size charts. Express jeans come in different washes from darkest to lightest and fits from loose to tight.
For women's denim: Mia styles: slim fit with a mid rise, Zelda styles: slim fit with an ultra low rise, Stella styles: regular fit with low rise jeans, Rerock styles: thick-stitched jeans.
For men's denim: Blake styles: loose fit Kingston styles: classic fit, tighter fitting than the Blake and looser than the Rocco or Zach, Rocco styles: slim fit Alec styles: extra slim fit.
Express, Inc. is an American fashion retailer that caters mainly to young men and women. The company is headquartered in Columbus, Ohio.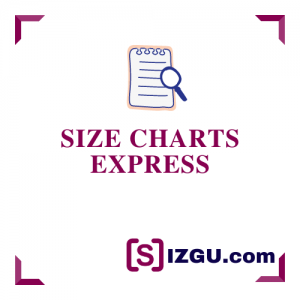 Women's Express size charts
Tops – Numeric Sizes
| Size | Bust (inch) | Bust (cm) |
| --- | --- | --- |
| 00 | 30½ | 77½ |
| 0 | 31½ | 80 |
| 2 | 32½ | 82½ |
| 4 | 33½ | 85 |
| 6 | 34½ | 87½ |
| 8 | 35½ | 90 |
| 10 | 37 | 94 |
| 12 | 38½ | 98 |
| 14 | 40 | 101½ |
| 16 | 41½ | 105½ |
| 18 | 43 | 109 |
Tops – Alpha Sizes
| Size | Bust (inch) | Bust (cm) |
| --- | --- | --- |
| XXS | 30½ | 77½ |
| XS | 31½ - 32½ | 80 - 82½ |
| S | 33½ - 34½ | 85 - 87½ |
| M | 35½ - 37 | 90 - 94 |
| L | 38½ - 40 | 98 - 101½ |
| XL | 41½ - 43 | 105½ - 109 |
Bottoms – Numeric Size
Size
Waist
Hips
inch
cm
inch
cm
00
23
58½
34
86½
0
24
61
35
89
2
25
63½
36
91½
4
26
66
37
94
6
27
68½
38
96½
8
28
71
39
99
10
29½
75
40½
103
12
31
78½
42
106½
14
32½
82½
43½
110½
16
34
86½
45
114½
18
35½
90
46½
118
Bottoms – Alphabetic Sizes
Size
Waist
Hips
inch
cm
inch
cm
XXS
23
58½
34
86½
XS
24 - 25
61 - 63½
35 - 36
89 - 91½
S
26 - 27
66 - 68½
37 - 38
94 - 96½
M
28 - 29½
71 - 75
39 - 40½
99 - 103
L
31 - 32½
78½ - 82½
42 - 43½
106½ - 110½
XL
34 - 35½
86½ - 90
45 - 46½
114½ - 118
Short Bottoms – Numeric Sizes
Size
Waist
Hips
inch
cm
inch
cm
00
23
58½
34
86½
0
24
61
35
89
2
25
63½
36
91½
4
26
66
37
94
6
27
68½
38
96½
8
28
71
39
99
10
29½
75
40½
103
12
31
78½
42
106½
14
32½
82½
43½
110½
16
34
86½
45
114½
18
35½
90
46½
118
Tall Bottoms – Numeric Sizes – Long
Size
Waist
Hips
inch
cm
inch
cm
00
23
58½
34
86½
0
24
61
35
89
2
25
63½
36
91½
4
26
66
37
94
6
27
68½
38
96½
8
28
71
39
99
10
29½
75
40½
103
12
31
78½
42
106½
14
32½
82½
43½
110½
16
34
86½
45
114½
18
35½
90
46½
118
Men's Express size charts
Shirts
Size
Neck
Sleeve
Chest
inch
cm
inch
cm
inch
cm
XS
13 - 13½
33 - 34½
31 - 32½
78½ - 82½
33 - 35½
84 - 90
S
14 - 14½
35½ - 37
32 - 33½
81½ - 85
36 - 38½
91½ - 98
M
15 - 15½
38 - 39½
33 - 34½
84 - 87½
39 - 41½
99 - 105½
L
16 - 16½
40½ - 42
34 - 35½
86½ - 90
42 - 44½
106½ - 113
XL
17 - 17½
43 - 44½
35 - 36½
89 - 92½
45 - 47½
114½ - 120½
XXL
18 - 18½
45½ - 47
36 - 37½
91½ - 95½
48 - 50½
122 - 128½
Men's Pants, Jeans and Shorts – Numeric Sizes
Size
Waist
Hips
inch
cm
inch
cm
28
28½ - 29
72½ - 73½
35 - 35½
89 - 90
29
29½ - 30
75 - 76
36 - 36½
91½ - 92½
30
30½ - 31
77½ - 78½
37 - 37½
94 - 95½
31
31½ - 32
80 - 81½
38 - 38½
96½ - 98
32
32½ - 33
82½ - 84
39 - 39½
99 - 100½
33
33½ - 34
85 - 86½
40 - 40½
101½ - 103
34
34½ - 36
87½ - 91½
41 - 42
104 - 106½
36
36½ - 38
92½ - 96½
42½ - 44½
108 - 113
38
38½ - 40
98 - 101½
45 - 46½
114½ - 118
40
40½ - 42
103 - 106½
47 - 49½
119½ - 125½
42
42½ - 43
108 - 109
50 - 51½
127 - 131
Men's Pants, Jeans and Shorts – Alphabetic Sizes
Size
Waist
Hips
inch
cm
inch
cm
XS
28½ - 29
72½ - 73½
35 - 35½
89 - 90
S
29½ - 31
75 - 78½
36 - 37½
91½ - 95½
M
31½ - 34
80 - 86½
38 - 40½
96½ - 103
L
34½ - 38
87½ - 96½
41 - 44½
104 - 113
XL
38½ - 42
98 - 106½
45 - 49½
114½ - 125½
XXL
42½ - 43
108 - 109
50 - 51½
127 - 131
Jackets & Outerwear
Letter Size
Numeric Size
Sleeve
Chest
inch
cm
inch
cm
XS
36
32½
82½
35 - 36½
89 - 92½
S
38
33
84
37 - 38½
94 - 98
M
40
33½
85
39 - 40½
99 - 103
L
42
34
86½
41 - 42½
104 - 108
XL
44
34½
87½
43 - 44½
109 - 113
XXL
46
35
89
45 - 46½
114½ - 118
Short Jackets
Letter Size
Numeric Size
Sleeve
Chest
inch
cm
inch
cm
XS
36
31½
80
35 - 36½
89 - 92½
S
38
32
81½
37 - 38½
94 - 98
M
40
32½
82½
39 - 40½
99 - 103
L
42
33
84
41 - 42½
104 - 108
XL
44
33½
85
43 - 44½
109 - 113
XXL
46
34
86½
45 - 46½
114½ - 118
---
Check also:
---
Tall Jackets – Long
Letter Size
Numeric Size
Sleeve
Chest
inch
cm
inch
cm
XS
36
33½
85
35 - 36½
89 - 92½
S
38
34
86½
37 - 38½
94 - 98
M
40
34½
87½
39 - 40½
99 - 103
L
42
35
89
41 - 42½
104 - 108
XL
44
35½
90
43 - 44½
109 - 113
XXL
46
36
91½
45 - 46½
114½ - 118