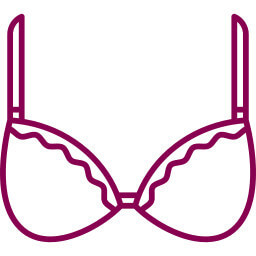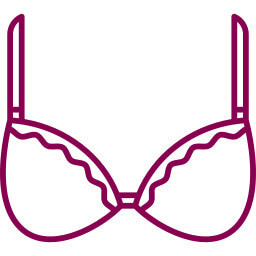 On this page you will find the bra size charts. Measure the dimensions to determine the size of bras horizontally enclosed tension meter. Bra sizes may vary slightly from manufacturer to manufacturer.
Back pain, shoulder pain, difficulties with breathing or various inflammations may indicate that the size of bra is not well determined. Therefore, the appropriate bra size should be chosen very carefully.
How to determine the right bra size
Circumference
The circumference during the bra selection plays a very prominent role. It the circumference of the bra which carries most of the weight of the breast. A correctly fitting circuit must not be moved upwards, neither loose nor too tight. The back of the bra should be possible to pull away from the back by more than three fingers.
When buying a new bra, we recommend to choose the size of bra – when it is possible to close the circuit on the first hook. You should keep in mind that the material may be slightly pulled out during wearing.
Cups
Properly selected bra should fit perfectly on the breast, which means that it should not stand anywhere or cut into the skin.
Straps
With straps it is important that they do not cut into skin or fall off from shoulders.
Size chart of bras
Size
Under bust (in cm)
Bust (in cm)
Cup size A
Cup size B
Cup size C
Cup size D
Cup size E
Cup size F
Cup size G
Cup size H
60
58-62
72-74
74-76
76-78
78-80
80-82
65
63-67
77-79
79-81
81-83
83-85
85-87
87-89
89-91
91-93
70
68-72
82-84
84-86
86-88
88-90
90-92
92-94
94-96
96-98
75
73-77
87-89
89-91
91-93
93-95
95-97
97-99
99-101
101-103
80
78-82
92-94
94-96
96-98
98-100
100-102
102-104
104-106
106-108
85
83-87
97-99
99-101
101-103
103-105
105-107
107-109
109-111
111-113
90
88-92
102-104
104-106
106-108
108-110
110-112
112-114
114-116
116-118
95
93-97
107-109
109-111
111-113
113-115
115-117
117-119
119-121
121-123
100
98-102
112-114
114-116
116-118
118-120
120-122
122-124
124-126
126-128
105
103-107
117-119
119-121
121-123
123-125
125-127
127-129
129-131
131-133
110
108-112
122-124
124-126
126-128
128-130
130-132
132-134
134-136
136-138
115
113-117
129-131
131-133
133-135
135-137
137-139
139-141
141-143
120
118-122
134-136
136-138
138-140
140-142
142-144
144-146
146-148
125
123-127
139-141
141-143
143-145
145-147
147-149
149-151
151-153
130
128-132
144-146
146-148
148-150
150-152
152-154
154-156
156-158
135
133-137
149-151
151-153
153-155
155-157
157-159
159-161
161-163
Conversion of the size of the bra circumference
| | | | | | | | | | | |
| --- | --- | --- | --- | --- | --- | --- | --- | --- | --- | --- |
| UK sizes | 28 | 30 | 32 | 34 | 36 | 38 | 40 | 42 | 44 | 46 |
| EU sizes | 60 | 65 | 70 | 75 | 80 | 85 | 90 | 95 | 100 | 105 |
Check also size charts of:
Cup size conversion chart
| | | | | | | | | | | | | | | | | |
| --- | --- | --- | --- | --- | --- | --- | --- | --- | --- | --- | --- | --- | --- | --- | --- | --- |
| UK sizes | A | B | C | D | DD | E | F | FF | G | GG | H | HH | J | JJ | K | KK |
| EU sizes | A | B | C | D | E | F | G | H | I | J | K | L | M | N | O | P |